Okay, this one may not be for all of you. After all, your ten-day Caucasian Challenge, a 4000-kilometre trek, complete with all manner of built-in challenges, should suffice to fully tease out your inner Badass Adventurer of the Wilderness. However, some of you may be harboring a side an order of magnitude up from this, an inner Chuck Norris, if you will, one who may still be chomping at the bit in anticipation of still more action-packed adventure, while his co-adventurers cool their heels and warm their stomachs in Yerevan. If this is indeed you, and you are ready for several more days of showing the world who's boss, we take a respectful step back and lay on the table this mini-series of extra action in gorgeous Georgia. We'll kick off with…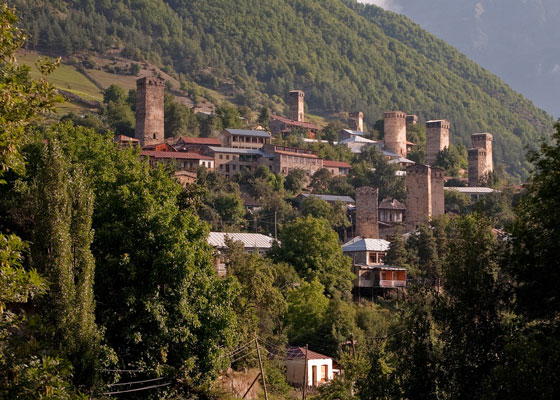 Trekking tours!
Two feet and a large dose of enthusiasm are all you need to carry you along fabulous peaks, glaciers, gorges, and of course villages like these on your way from Mestia to Ushguli. You will have already seen the tantalizing landscape beckon you on days 4-5 of your Caucasian Challenge in Mestia. There are a number of ways of making your way back there from Yerevan, all of which involve first making tracks back to Tbilisi.
Why Mestia to Ushguli?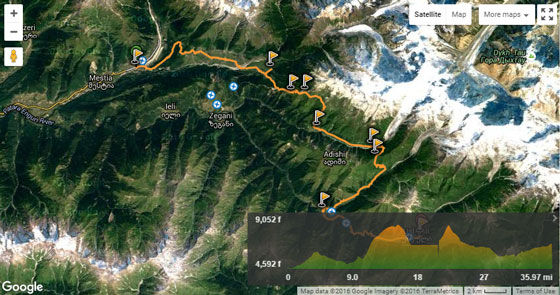 \
Photo by Google maps
This is probably the most popular multi-day trek in the whole of Georgia and for a good reason – it's not too long, it's accessible, it offers great views and it passes through several traditional Svan villages. Another advantage is the possibility of sleeping every night in villages. Also, it's doable in three days, but we suggest you make it four to get the most out of it.
Day One: Mestia – Zhabeshi (five hours)
The trek starts on Mestia's main square. Follow the main road to the east, cross the bridge and after some 100 meters look for a small path to the right. Follow it for some 150 meters and you should come to the big road again. Turn right and follow it – you will almost immediately come to a crossroads. Here you need to turn sharply left, to the east. Then walk for another 30 minutes, slowly ascending.  After some 30 minutes,  you will see some buildings ahead. Take the path which sidesteps them from the right side. The ascent will become steeper, the forest thinner and eventually you will arrive in meadows from which you will have a nice view of Mt. Ushba.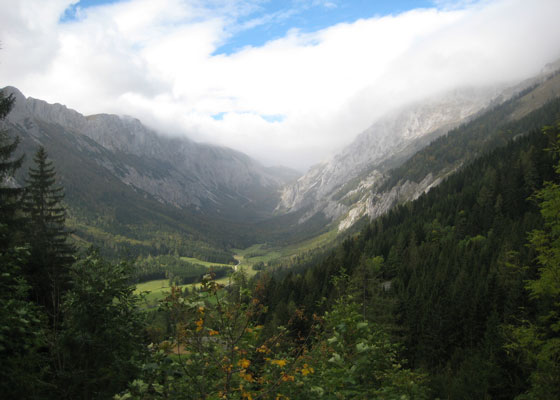 Keep following the trail. Soon it will turn to the right and you will climb to the top of a small ridge. Right before you opens up a beautiful view of Svaneti valley dominated by Mt. Tetnuldi peak. From here you need to navigate to the villages you see to the east.
Pass through Murksheli and Zhamushi villages. In Cholashi village, cross the Mulkhura river over the bridge. Soon you will come to Chvabiani village, a place to eat.
Day 2: Zhabeshi – Adishi (eight hours)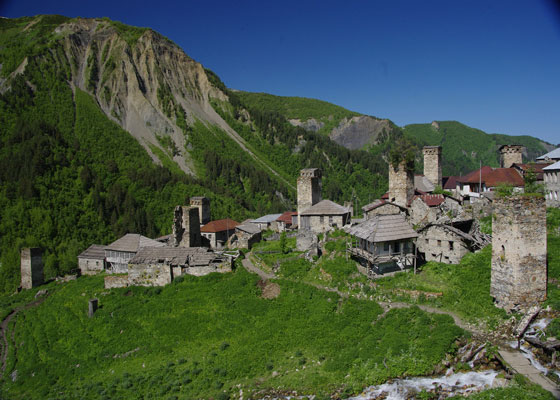 This is probably the hardest day of the trek. Leave Chvabiani on a road heading to the southeast. Just outside the village, you will see a forested hill in front of you (to the east), you need to circumvent it from the right so when you will be walking on the road, the forest will be on your left side and the meadow on the right side. Eventually, your trail will dive into the forest.
After about one hour of walking, you will come to a water cistern. From there, turn left and head uphill. The trail becomes less obvious, narrower and steeper. Two hours later you should reach another spring. From here you can follow the yellow marks. After few hundred meters, you will come to a point where the two streams branch out.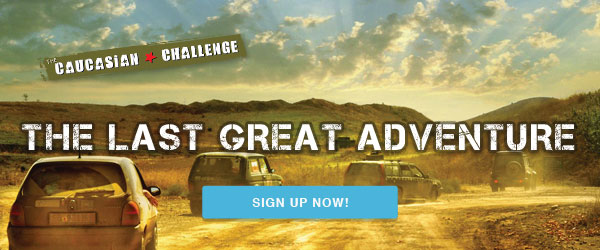 Mind the distractor
Follow the one to the right, until you reach a new, big road. Turn left on the road and start walking. After one kilometer at elevation 2500m, you will come to the marker showing the way to Adishi to the right, however – it is misleading. There is probably some path, but many of the hiking groups who follow it get lost in bushes and have to return to the main road. Some Israeli tourists scratched some warning in Hebrew onto it. Ignore the marker and walk another kilometer. There, at the place where the main road sharply bends to the left is another path heading to the right – this is the correct trail do Adishi.
Day 3: Adishi – Iprali (seven hours)
Another day and another tricky part in the morning – fording of the Adishi river. It good to ask around in the village about the water level and hire a horse if necessary. Leave the village by a path heading by the river to the east, to the foot of Adishi glacier. After one hour the path ends in a river – you will have to ford it. The best time to do it is in the morning when the water level is lower, just take care and if it seems too dangerous, don't take a risk and go find a guy with a horse.
Breathtaking sights on the final stretch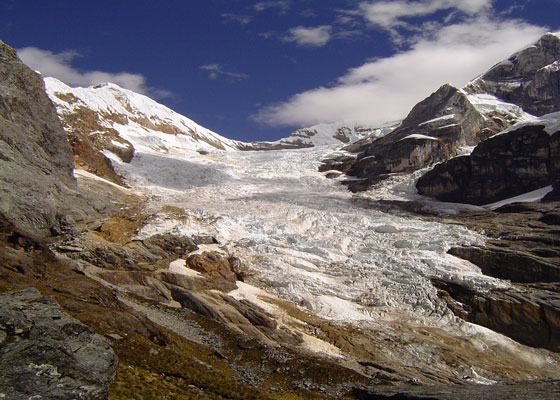 Behind the river, the path appears again and starts sharply ascending. After two hours of climbing you should make it to the Chkhunderi pass (2655m) – it offers great views of surrounding mountains and the Adishi glacier. Look for a path that gradually climbs down from the ridge, starting to the right. After the descent turn right, the trail to Iprali which follows the Khaldechala river is mostly downhill and quite obvious. On the way, you will see a number of deserted buildings and settlements. To Iprali it should take another two hours of walking.
Day 4: Iprali – Ushguli (three hours)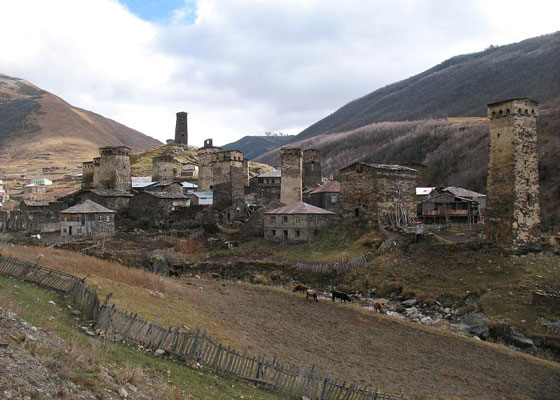 This section is easy, just follow the car road and after several hours you should arrive in Ushguli. Still its pretty nice walk, especially the "canyon" section of it.
How to leave Ushguli
If you need to return to Mestia, your best bet will be minivans doing daytrips to Ushguli. They are not always full and not all travellers want to return on the same day, so there is a solid chance they will have a few empty seats on the return trip. They usually arrive around eleven a.m. and depart back towards Mestia around three p.m.
So there you have it: your first round of enticing Encores with a Difference in Georgia, a finishing touch for the super adventurous who brave the Caucasian Challenge. Stay tuned for round two, arriving soon.
Liked this story? Getting itchy feet to travel and find adventures? Then join us on the next
Caucasian Challenge
. Get a team together and let's see you at the starting line! If you want to join us in spirit, like us on
Facebook
or follow us on
Twitter
and
Instagram
to keep up with our latest antics.