Let's mentally fast-forward to the 11.58 stage of your trip: day ten of your blood-pumping, muscle-ripping, and, yes, jaw-dropping adventure, which finds you in magnificent Yerevan, marveling at its sights in a lower-than-usual gear – solely in aid of cultural appreciation of course, and no way because you (now officially Badass Adventurer of the Wilderness, you) may be feeling muscles you never knew you had, of course. But in case the sound of "spa", "soothe", and "revive" make you sit up and pay attention just a bit, keep listening, because the encore to round off your adventure is closer than you think. As a mere 50 kilometers from you, surrounded by serene alpine meadows, lies the unheard-of and unpronounceable town of…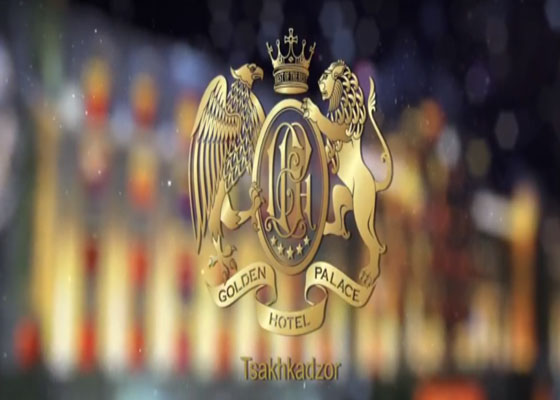 Tsaghkadzor: a pearl in a nutshell
Well, as resort towns go, they surely don't come much more shrouded in mystery than this gem tucked away in rural Armenia, but scratch the surface, and the charms of this little-known-to-the-outside-world town might hopefully reveal their teeth in appealing ways. Roughly a 50 – minute ride from Yerevan, Tsaghkadzor is Armenia's only developed ski resort – hey, wait! – whose spas, which are available all year round and administered in the form of a daily bathing sessions at hotel pools – all for a price anyone can afford -, help supply the relief that, say, a friend may be seeking in the wake of a 4000 kilometer stretch of gas-to-floor gratification. So what about the rest of this town, I hear you ask.
…And basic fact file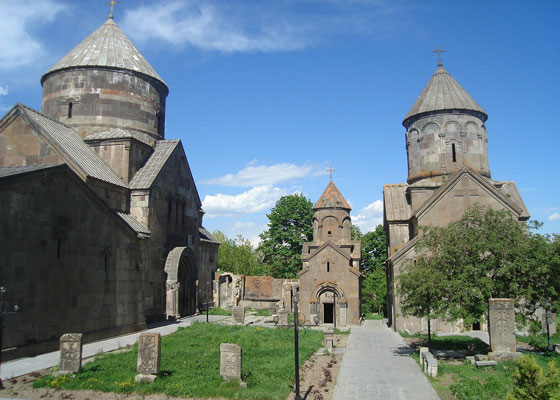 Well, accommodation comes in the form of an enclave of hotels that represent most rungs of the luxury scale; they are sewn together with a few bits and pieces which make up the urban fabric. The town's man-made centerpiece is the appealing allure of Kecharis monastery, which also appears to be the one spot which travelers will stop by at more than any other for photo options.
Kecharis is also the name of the town's most centrally-located hotel, and during the ski season at least, it is worth stopping off at on an evening time when fairy lights appear to adorn the whole of the hotel's facade. One or two mini-markets are also centrally-located, as are a bank or two and a scattering of eateries, the quality of which ranges from sub-standard to impressive. Size-wise, Tsaghkadzor is best described as 'compact'.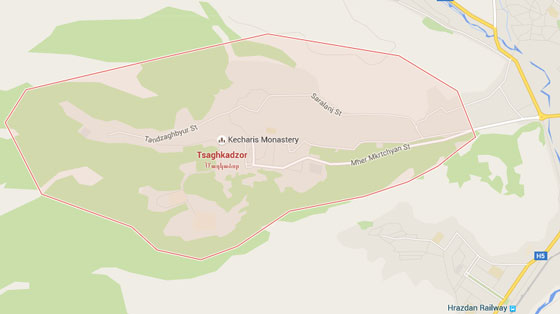 Photo by Google maps
Future fun possibilities?
By now, you may be thinking "hmm… I wonder", and "what if", and if so, yes, Armenia is equally gorgeous in winter. So, solely for future reference, let's cast our eyes onto the resort's main draw card (at least, in season), the ski area proper, and the question which the uninformed might ask themselves: whether or not the ski terrain can hold its own in the realm of international ski resorts. The answer will more than likely depend on the kind of ski terrain you're looking for, as a rapidly-advancing skier would benefit greatly from looking elsewhere, whereas the leisure skier not looking for fast and frantic ski action, such as yours truly, will actually find genuine worth in Tsaghkadzor's slopes.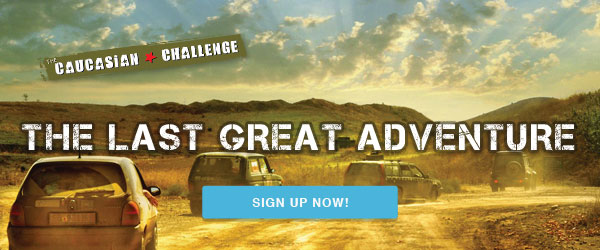 The verdict
So, for sure, this is no alpine terrain, but then again, these aren't alpine prices either, and if cute, compact, esoteric and friendly ski areas appeal, then this kind of ski trip might well be worthy of a few points of consideration. Coupled with the fact that the above mentioned daily bathing session at a nearby hotel's spa and pool really help lighten the load after a body-pumping time on the slopes, the overall conclusion is that Tsaghkadzor is well worth the asking price, and would make as interesting a stating point to a wintertime adventure as a denouement it does to your summertime Caucasian Challenge.
Liked this story? Getting itchy feet to travel and find adventures? Then join us on the next
Caucasian Challenge
. Get a team together and let's see you at the starting line! If you want to join us in spirit, like us on
Facebook
or follow us on
Twitter
and
Instagram
to keep up with our latest antics.