One man's obsessive devotion creates magical underground world that now you too can visit. Welcome to the world of Levon's cave.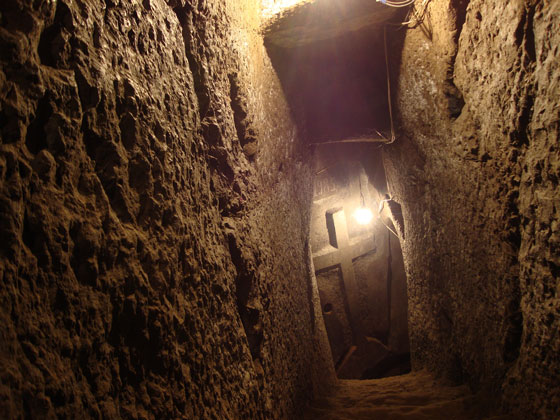 How did this come about? 
The year was 1985 when Tosya Gharibyan, an Armenian lady, resident of Arinj village in Kotayk Province, asked her husband to dig her a potato cellar under their back yard by their two storey house. Levon, her husband, who was a builder by profession, duly went and began to dig. And dig. And dig. Through successive layers of touf , black earth, and basalt. He carried on for twenty-three years, using nothing but instinct, hand tools, and a tireless work ethic, until he died, aged 67, chisel in hand, leaving an underground cave 21 meters deep.
That is, khm, unusual. Is it a massive single cave, or divided into rooms?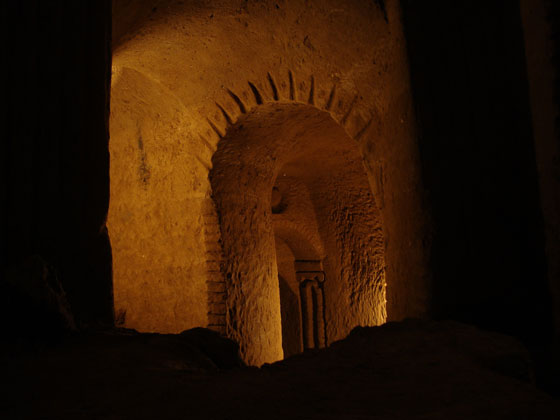 The cave, now a museum , has seven rooms that are connected by a maze of steps and corridors.The cave has a floor space of 280 square metres. Tosya Gharibyan says that the temperature in the cave remains a constant 10 degrees C, in both winter and summer. Also, as you can see, Levon's cave is festooned with elaborate stone carvings. He created halls, stairs, twists, and multiple rooms beneath the house, and small shrines too, giving it a properly sacred feel, especially now that the cave- museum is also illuminated by electric lights.
I'm no expert, but his seems a lot for someone to accomplish, even in 23 years.
It is. Tosya Gharibyan says that Levon would only catch about four hours' sleep a night. In the latter years of the project, visitors used to come to the cave with food to offer him. Levon then would complain that they were interrupting his work.
From the very beginning in 1985, he used to fill up a bottle of mineral water and take it down to the cave. That's all that sustained him. That and his untiring spirit and devotion to what he was doing, as well as visions and dreams in which a voice told him he had to continue chipping away at the rock face using only his small hand tools. He worked every day, shunning traditional support structures or power tools, because he didn't believe in them.
So is it Tosya herself who gives guided tours around the museum?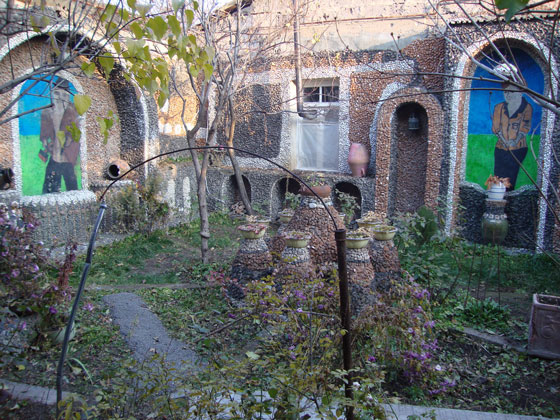 Indeed. She escorts scores of curious visitors around Levon's cave. A small room now is dedicated to pictures, artifacts, and publications about Levon's life of devotion to the cave mission. On the tour, his wife also points out one particular point in the cave which Levon claimed had special magnetic properties.
Her late husband's devotion to stonework and creation is also evident in the stone mosaic portraits that he embedded in the courtyard walls all around his home, which, in retrospect, was also among Levon's greatest work. Two in particular stand out: one of Levon, with his hammer and chisel in hand, the other is of Tosya, holding a potato.
She has transformed the first floor of the house into a museum as well, displaying the tools used and clothes worn by Levon. There are also a visitor's signing book and press clippings of the cave.
Levon and Tosya have four daughters and twelve grandchildren. Tosya says that in this age of modern equipment, no one will continue the work of master Levon. His hammer and chisel remain silent forever, on display for all to see.
When is the best time to visit?
Levon's cave museum is open all year, and is easy to find. As soon as you get to the village of Arinj – whether you're on four wheels on the Caucasian Challenge, or a few more, courtesy of public transport – just ask any local for directions to Levon's home. They'll be able to point you in the right direction.