If you want to eat Georgian food, khinkali are an excellent place to start. These tasty dumplings are popular throughout the country. Be sure to try them if you visit, just make sure you eat them correctly!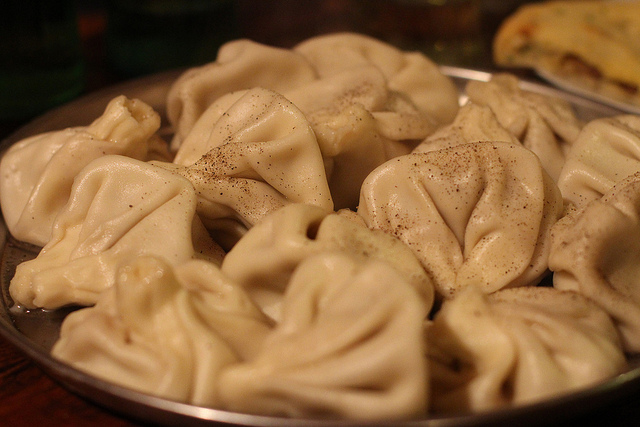 While there are many delicious dishes to try in Georgia and the Southern Caucasus, when it comes to Georgian food, khinkali are truly essential. They are a perpetual feature of supra (feasts) but also a regular sight at restaurants and cafes, eaten by tourists and locals alike. It's common to share an order among friends with each individual eating anything between five (normal) and ten (normal if you're hungry) or more (normal if you're hungry and Georgian). Deciding how many to order can be tricky since they vary in size. Generally, the more authentic the restaurant, the bigger the khinkali!

What are khinkali?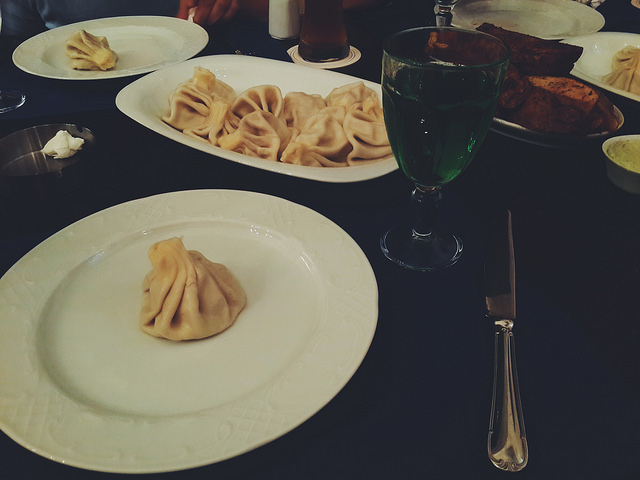 Khinkali are juicy dumplings, with various fillings depending on region and season. They are said to originate in central Asia though some proud Georgians might dispute that. They may have traveled along the silk road from Mongolia and the dumplings certainly resemble central asian manti. A clue may be hiding in the name: some claim that in early Georgian khin-kali meant "Khan's head", referring to the Khans who ruled the Mongolian empire.
They come with various different fillings. The original variety, khevsuruli, is a pork/beef mix though nowadays it's more popular to have kalakuri, which has chopped parsley as an additional ingredient. Up in the mountains it's common to fill khinkali with lamb, while elsewhere you can find variations filled with cheese, mushrooms, or potato. They come well spiced, though locals will often douse their khinkali in black pepper before eating.
How are khinkali made?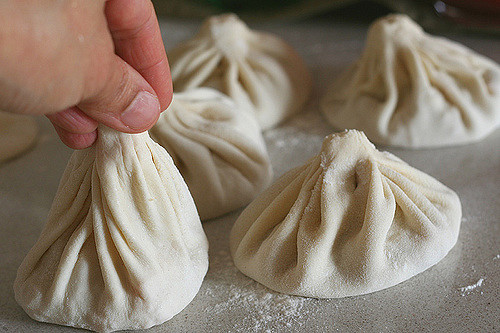 In most Georgian restaurants khinkali are the cheapest option on the menu, so there's not much incentive to cook them at home if you're actually in the country. However, once you leave — presuming that your local supermarket doesn't stock the frozen variety — you'll be forced to make them yourself to satisfy your cravings.
If you choose to make them yourself, you'll require time, patience, and probably several tries before getting it right. Here are the basics, though it's easy enough to find recipes online: The filling of minced meat and spices is covered in a doughy pouch, lined with pleats (the more the better, aim for at least twenty) which is then twisted closed, with the excess dough removed from the top. Afterwards, the dumplings are boiled. This is the tricky part: if they aren't made perfectly, they will burst. It may sound relatively simple, but cooking khinkali certainly isn't the best idea if you're pressed for time…
How to actually eat Khinkali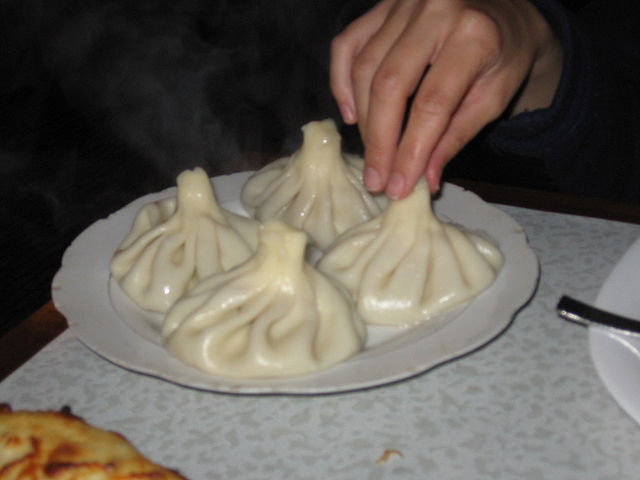 If there's one thing to remember before eating khinkali, it should be this: in no circumstances use a knife and fork. This isn't merely a matter of etiquette or tradition. Rather, if you stab khinkali with cutlery then juice will fly out all across the table, not exactly endearing yourself to your hosts or companions. Instead, after covering generously with black pepper, use your hand (as pictured above) to pick up the dumpling by the doughy knob (known by Georgians as a kuchi, a belly button). Continue holding and turn it upside down, gently holding the main body of the khinkali in your other hand. Then, carefully, take a small bite but make sure to suck up the juice before it squirts everywhere. Once the juice is gone, relax. Now you can nibble away at the khinkali, though remember that the doughy knob is often too thick to be fully cooked, so is usually left uneaten.
It's obvious to tell a khinkali eater's nationality by looking at their plate after a meal. A novice will likely have soaked their place in juice. A truly experienced eater (a Georgian, in other words) may have a completely spotless plate, apart from the uneaten kuchi that mark how many khinkali they have consumed. (Usually, a lot!) If you enjoyed the food, remember to use our guide to Georgian phrases to learn how to say "I love khinkali very much!"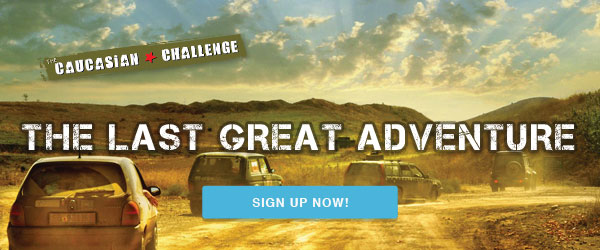 If you want to try real Georgian food, Khinkali and much more, there's obviously no better place than the country itself. And there's no better way to experience it than by joining the Caucasian Challenge adventure rally. From Istanbul to Yerevan, the minimal assistance rally participants drive Georgia's stunning mountain roads, see its historic sights, and enjoy Georgians' famous hospitality. You'll see remote villages, bustling towns, drink local spirits and, of course, eat khinkali!
Liked this article? Getting itchy feet to travel and find adventures? Then join us on the next
Caucasian Challenge
. Get a team together and let's see you at the starting line! If you want to join us in spirit, like us on
Facebook
or follow us on
Twitter
and
Instagram
to keep up with our latest antics.