A guest post from Tony Thorndike, Caucasian Challenge participant (and winner)!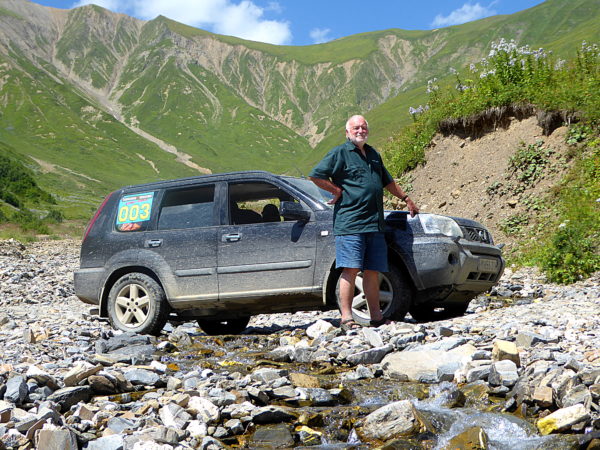 Tony Thorndike is a veteran of Travel Scientists rallies, a lifetime traveler who thinks nothing of driving from the UK to Bishkek, and back! He and his son-in-law Rob won the Caucasian Challenge in 2016, earning a reputation as a charming pair who loved to laugh and whose mastery of maps and dislike of "faff" meant they were first to arrive every evening! So, there is nobody better to recount their memories of this eventful trip than Tony. Here's his story:
"Mona Lisa"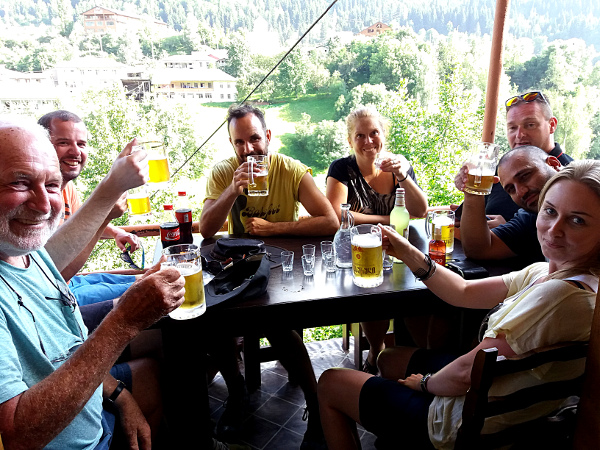 It was that enigmatic Mona Lisa – type smile again. "And is the Faffing – Free Zone well this morning?", Barbara from Germany enquired. To explain, "Faffing – Free Zone" was the nickname of our team, consisting of me and my son-in-law Rob: always the first to leave in the morning and often the first to reach the day's destination, in daylight. A few days previously, when we all met up at a campsite in Turkey, Barbara had asked what faffing meant. "It means", I explained loftily, "not messing about and wasting time." She was delighted: "I've learnt a new English word!" Soon afterwards everybody knew what it meant. Her question about our well-being was justified. All six teams on the 2016 Caucasian Challenge were in Mestia, in the High Svaneti area of Georgia. A beautiful town nestling in the mountains, it is peppered with defensive towers built to shelter people from warring disputes. All of us had had a riotous time the night before, the party lasting well into the small hours.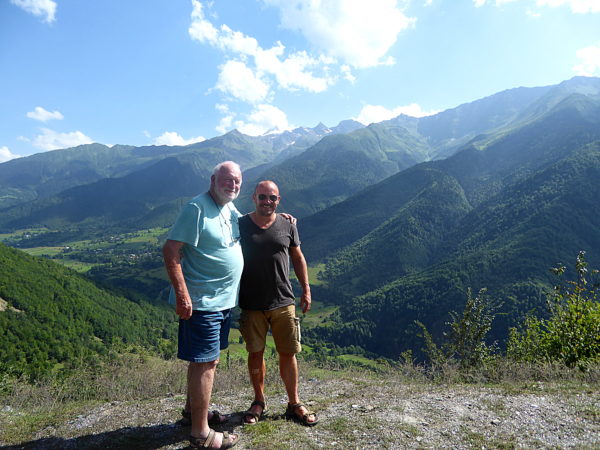 Our Nissan X-Trail had been driven first from the north of England to the Turkey – Georgian border (6 days) and then on to Mestia (4 days). Now we faced a 150 km rocky ride along what looked like a farm track, through the High Caucasus mountains. A truly breathtaking trip over the Zagar Pass with no contact with the outside world: solitude wrapped around us, the only sounds being birdsong and bubbling streams. After five hours driving we saw an abandoned house with a huge statue of Stalin in the front yard. By this time, nothing was strange. The other teams with 4WD vehicles able to survive at times brutal driving conditions were way behind, having indulged in a three-hour lunch in the last village. Well fed, they consisted of David the Hungarian (or was "Big David" Russian?), David the Scot ("Small David"), David's gentle Georgian girlfriend Sopho, and Barbara; Dirk and his wife Irina (Belgium and Russia); and Floris, Tom and Jimmy, three fun-loving Belgians, taking a break from being highly trained medics or IT specialists.

The next day found Rob and me in Gori, Stalin's birthplace. "You know more about Soviet history than the guide" stated Rob, as we found people listening into my explanations about this or that photograph or exhibit, as we toured the Stalin Museum. A bit embarrassing really. Then we were off to Tbilisi, the beautiful capital of a beautiful country, easily navigating our way along the riverbank to a homely hotel right opposite the cathedral. We shook off our tiredness by waiting in the well-stocked bar for the others to catch up. In fact, the first to arrive were the two teams with 2WD vehicles which had taken the easy, but lengthy, road. One was Aravind's, with his cheerful wife Gayathri and young lively daughter Dinita. The ever-dynamic and resourceful Aravind had established Travel Scientists in 2006, first in India. The other team were Andras and Adam, from Hungary, driving a Lada which had seen better days.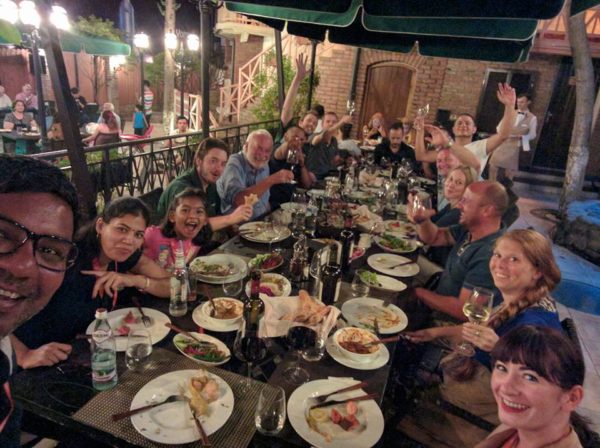 When everybody was together, Aravind announced he was treating us all to a 10th anniversary banquet. Floris was hilarious as was Binita. A quartet played, the music getting better the more wine we drunk. What an evening! "You know Tony", Barbara murmured, "we need more anniversaries like this." I couldn't have agreed more. The following evening followed rally tradition of a pub crawl in the Old Town. I'm not so mobile as I was – after all I am 75 – and Irina decided I needed help. So I had a beautiful woman with her arm in mine, causing a few heads to turn.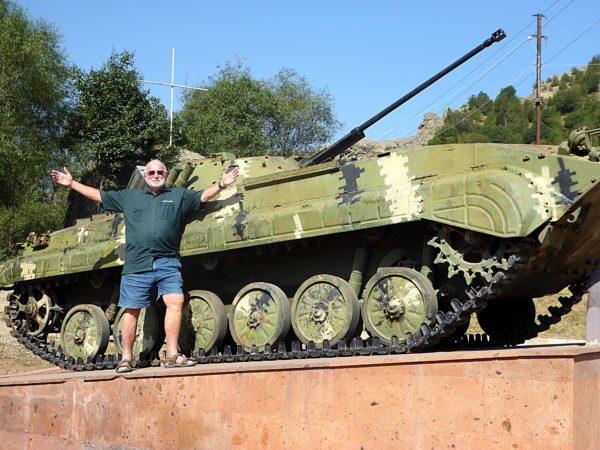 Armenia was as challenging. The easy bit was the newly rebuilt road from Lake Sevan to Stepanakert, the self styled capital of the breakaway, nominally Azeri, Republic of Nagorno-Karabakh, recognised only by Armenia. Passing burnt-out tanks and other reminders of the vicious war between Armenia and Azerbaijan during 1992 – 94 was a novel experience, providing exotic backdrops for photographs. "I've never sat on a tank turret before" cooed Sopho. Worse vistas of war were to follow. Armed with our Karabakh visas we passed a string of blasted towns and villages, now in ruins and virtually deserted, as we headed south to the Iran border. The border runs for many kilometres through an impressive gorge. Rob couldn't stop waving to cheerful Iranian drivers on the parallel road on the other side of the river, sometimes only 200m away. "Wow!" was an oft repeated mantra.
          
Then there was the final party in Yerevan. And what a party, sandwiched between visits to the multicoloured musical water display in nearby Republic Square. "That's really cool" exclaimed Binita, holding Barbara's hand. Barbara said nothing. She didn't have to do: her Mona Lisa smile spoke volumes.

Liked this article? Getting itchy feet to travel and find adventures? Then join us on the next
Caucasian Challenge
. Get a team together and let's see you at the starting line! If you want to join us in spirit, like us on
Facebook
or follow us on
Twitter
and
Instagram
to keep up with our latest antics.