Khachapuri is not only a traditional Georgian dish: it's THE traditional Georgian dish. Leading any list that you will find about Georgian gastronomy, this cheese-filled bread is a mandatory stop during your trip across Georgia. There are so many variations of it that it will take you a while to decide which is your favorite one but once you do we must give a warning: it may cause addiction!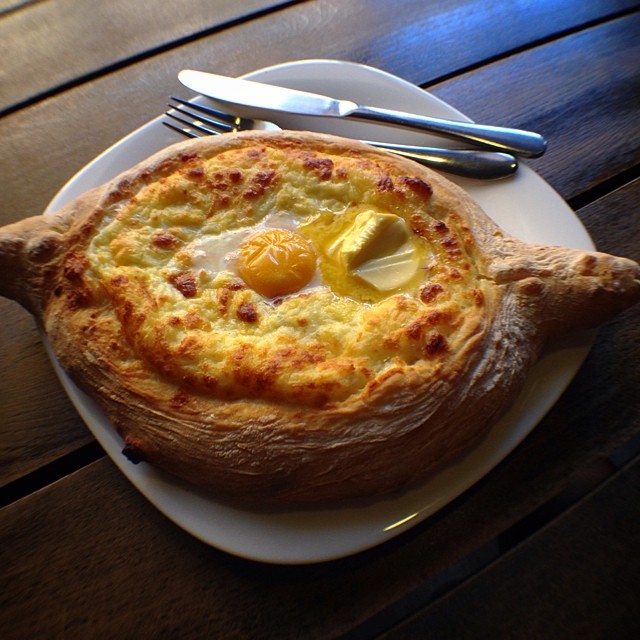 What is it?
So, what is all about? The base of the Khachapuri is a big piece of bread, which can take many different forms depending of the Khachapuri type. The bread is leavened and allowed to rise while the middle of this bread base is left hollow and filled with different ingredients. The very basic ones are cheese and eggs, but the rest of the fillings can vary from kind to kind.
Different Kinds of Khachapuri
There are different varieties of Khachapuri that can be found depending of in which Georgian region you are. They usually take their specific name from the name of the region. These are some of the most popular Khachapuri variations:
Imeruli : this kind of Khachapuri is circular with the filling in the middle. It is the most popular kind, and it takes its name from the region of Imereti.  
Acharuli: From the region of Adjara, this Khachapuri is shaped as a boat, with a wider centre where the filling is served, and narrower ends made of bread.  Besides the typical filling of cheese and eggs, the bread is topped with raw egg and some delicious butter.
Megruli: The Megrulian Khachapuri comes from Samegrelo region, but it is quite similar to the Imeruli one. The only difference is that it has more cheese added on top of its filling.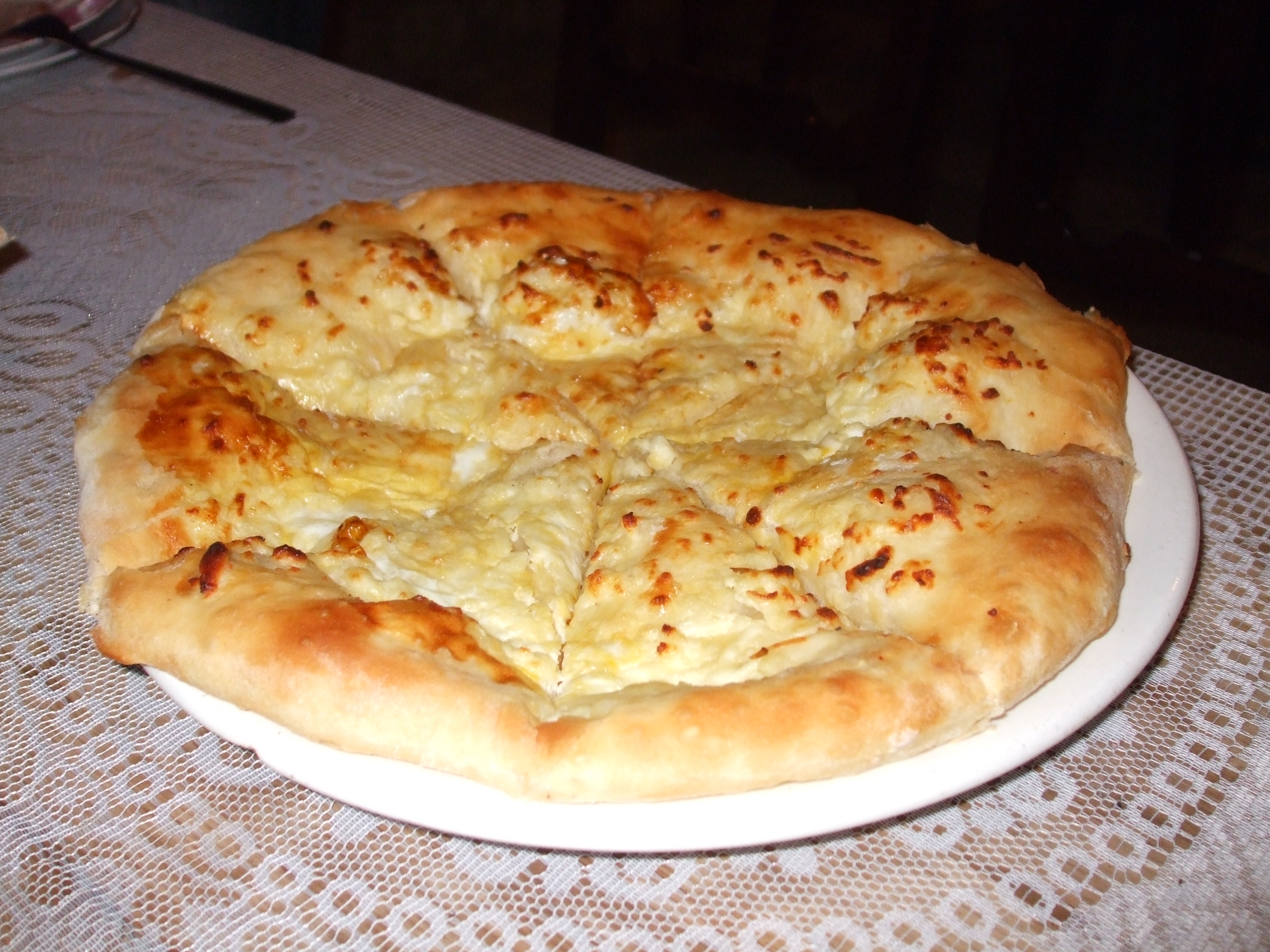 Achma: The typical Khachapuri from Abkhazia region may be the most original one. It is formed by several different layers of bread and fillings, giving to it the appearance of some kind of lasagna without sauce.
Ossuri / Khabizgini: Typical from Ossetia region, it has a stronger filling with potato and cheese.
Svanuri: Svanuri Khachapuri comes from the Svaneti region, and it is filled with meat and chopped onions.
Guruli: It comes from the region of Guria, and, according to some opinions it can be considered either as a different dish, or a Khachapuri variation. Whatever the case is, it is similar to an Italian Calzone, and the bread dough is filled with boiled eggs. It is also known as "Gurian Pie", and, only in Guria, as a "Christmas Pie" because it is typically prepared for Christmas, something that does not apply to the rest of Khachapuris.

How to make your own khachapuri
As pointed before, there are so many kinds of Khachapuri that it would be impossible to give one correct recipe, as the possibilities are endless! However, you can learn how to make one of the most typical and delicious kinds of Khachapuri, the boat shaped Acharuli. After this, you can always try all the other variations by changing the filling, or even invent your own kind…imagination is the limit!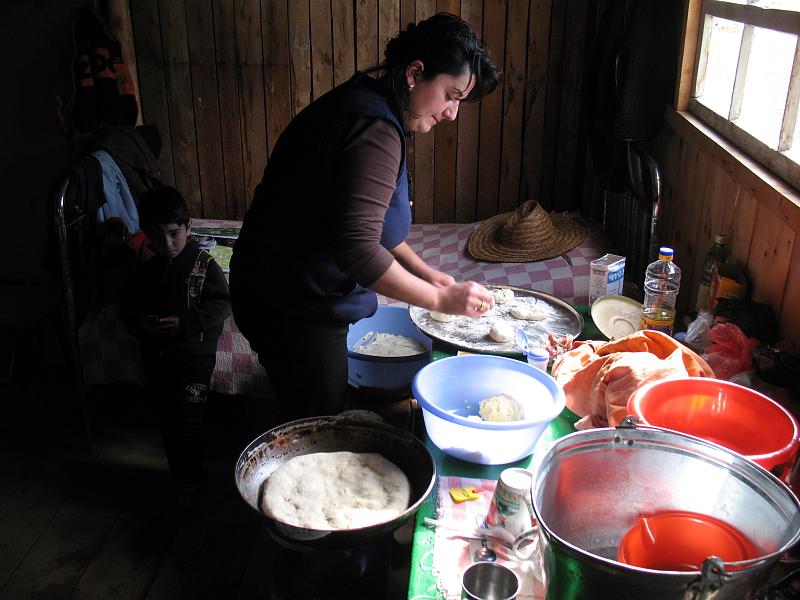 Acharuli Khachapuri :
You will need to prepare beforehand the ingredients: active dry yeast, sugar, olive oil, flour, salt, Sulguni and Imeretian cheese (alternatively you can use Mozarella), eggs and butter.
To prepare the dough, first put a teaspoon of dry yeast and another of sugar in boiling water. Wait around 10 minutes until the mix get foamy, and then add a cup of flour, a spoon of oil, and salt. After mixing it all together with a preferably wooden spoon, you will have the dough ready. You will need to put this mass in a greasy bowl and cover it with plastic, so it can grow until having the double size, a process that will take around 45 minutes.
In the meantime, you can start to prepare the filling. Grate the cheese and mix it with egg and butter until you have a homogeneous mass. When the dough is ready, make its oval boat shape, and put the mixture you just made in the middle space, leaving some empty space around it. Use this empty space to fold the ends of the dough towards the middle, securing the filling inside.
Carefully place the Khachapuri on a floury oven tray for a few minutes at high temperature, until it gets its nice golden color. Top it with raw egg on the cheese and an egg yolk, and let it bake just a little more, no more than three minutes. Serve it hot and with a whole piece of butter to be mixed with the filling.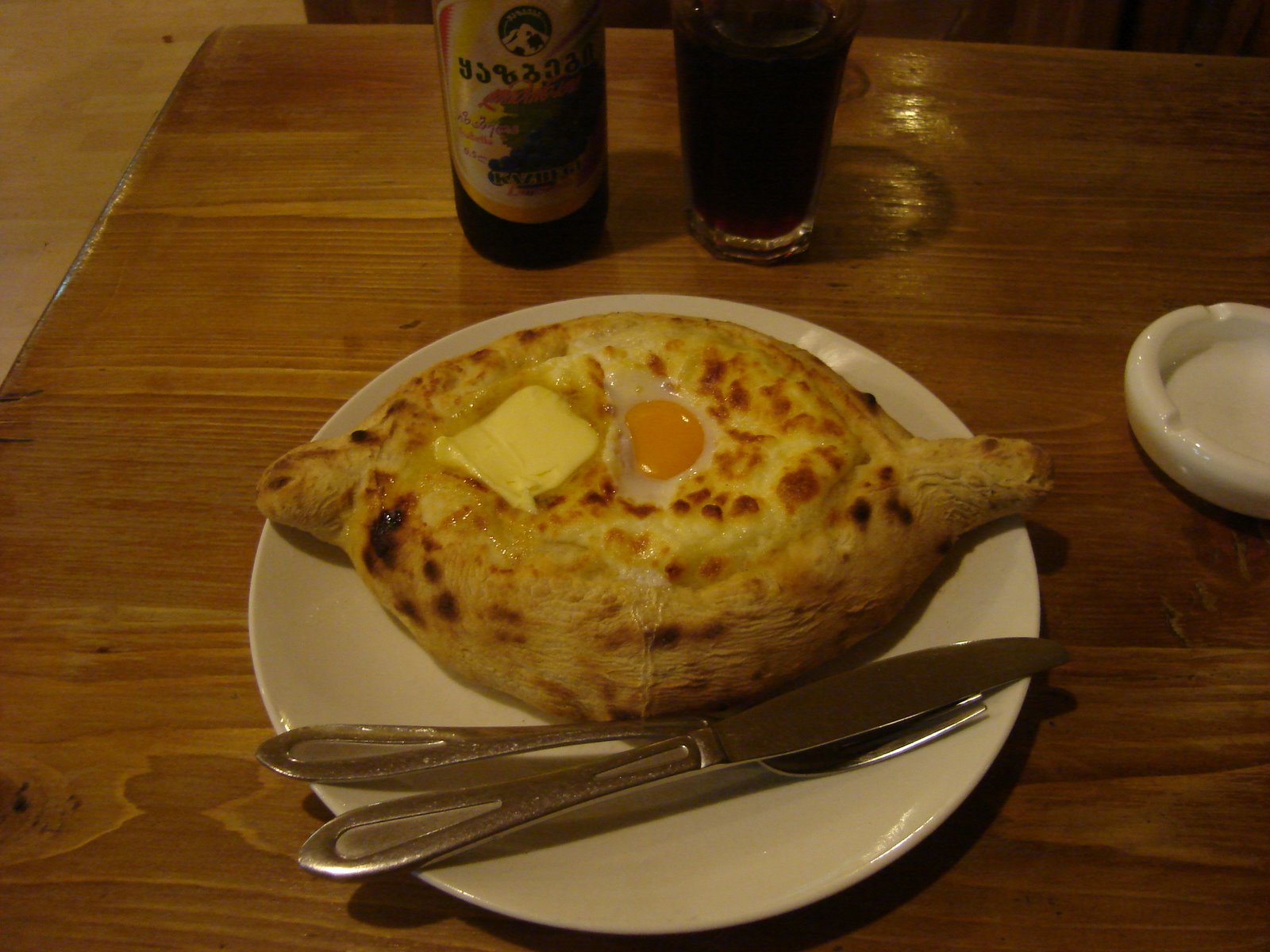 So now you know which should be your first (but, for sure, not your only) culinary stop when you race across beautiful Georgian regions in the Caucasian Challenge. Nothing better than a delicious Khachapuri in your favorite version to recharge forces and keep going to new adventures!
Liked this story? Getting itchy feet to travel and find adventures? Then join us on the next
Caucasian Challenge
. Get a team together and let's see you at the starting line! If you want to join us in spirit, like us on
Facebook
or follow us on
Twitter
to keep up with our latest antics.