Georgia is full of surprises: you can find better wine than France, higher mountains than Switzerland and, it turns out, older monasteries than those found on the rock pillars of Greece.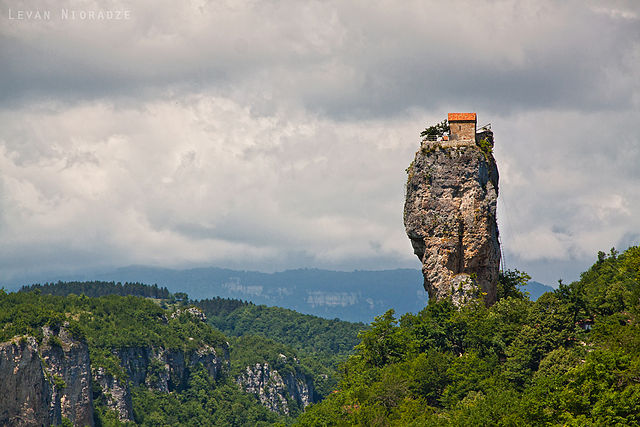 The Katskhi pillar, Georgia's Meteora is found not far from Chiatura, but seems a world away from the town's mining history and rusty cable cars. It's setting — amid an other-worldy landscape of cliffs and forest — is stunning. The pillar rises 40 meters from the hills, and has understandably captivated Georgians for centuries: it was originally a pagan holy place, likely used for fertility rights, before the arrival of Christianity. And in Georgia, Christianity arrived a long time ago.
Georgia's Meteora
Yes, in the 4th century Georgia became only the second country, after Armenia, to adopt Christianity as its state religion. Gradually,  Christianity took over pagan places of worship to consolidate the new set of beliefs. This is how the Katskhi Pillar became the site of a small church, in the 7th century.
The church that perches atop the pillar belonged to the Stylites, who were early Christian ascetics devoted to praying on top of wooden pillars. They followed the lead of the much-revered Saint Simeon, and often sat atop a pillar for almost 40 years. These pious fanatics tortured their bodies and devoted their spirit entirely to their religion.
How many churches are there now?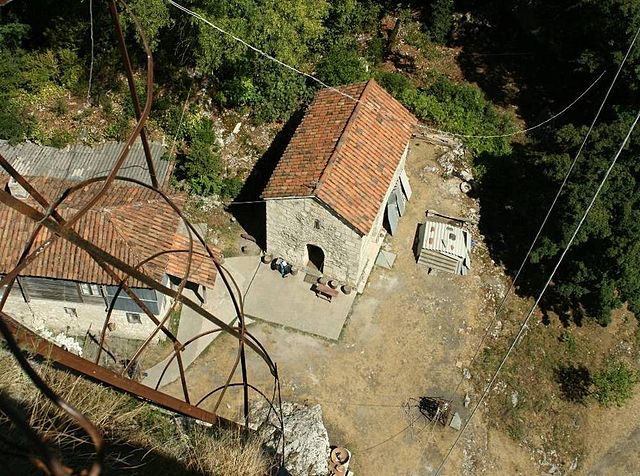 The rock has the ruins of two Byzantine churches on top of it. In the ruins, researchers found a crypt, three hermit cells, and a wine cellar. Currently, the Georgian Orthodox Church is adding a new small church at the top of the Katskhi Pillar.
For centuries it remained uninhabited. In the 1990s, a monk named Maxim Qavtaradze moved in and started to restore the vertiginous churches himself. He still lives there now and enters and leaves via a 40-meter iron ladder; it takes him about twenty minutes to climb. He had been motivated to turn his life around after a stint in prison; he actually slept in an old fridge for his first two years, until some supporters came and built him a cottage.
Can anyone climb up?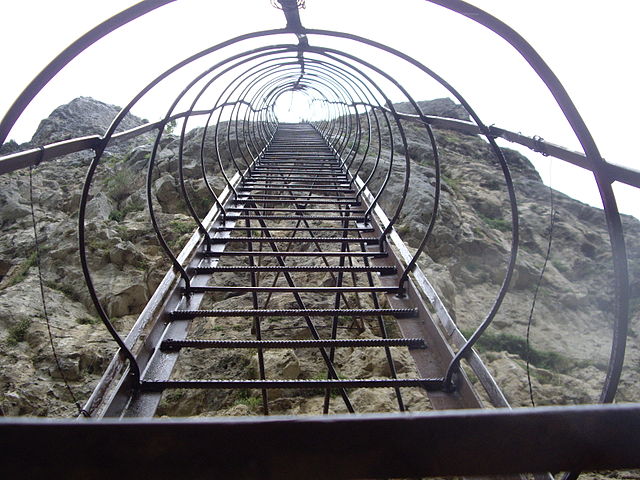 Theoretically, you can climb to the top  via a combination of scaffolding at the lower half, and then an iron ladder at the upper half of the pillar, although neither should be contemplated if vertigo isn't your thing. If you did make the climb, in addition to the breathtaking views, you'd get to see the  remains of a believer who died atop the Katskhi Pillar at an unknown date at the contemporary church building.
However, tourists are very rarely allowed up, and only ever males. Guests usually require the blessing of the Georgian patriarch; however, it's said that a few years ago a Korean tourist was so upset at not being allowed up that he burst into tears… and was given permission! So try that if all else fails…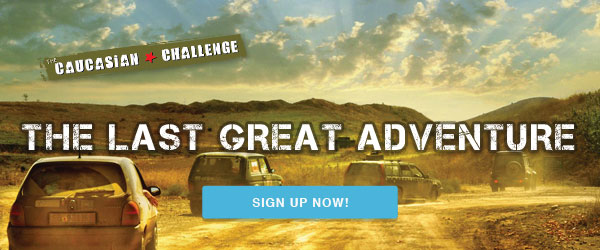 Right in the center of the country, the Katshki column isn't easy to visit without a car, and in any case makes a rather long day trip from Tbilisi. However, it's perfectly located to be a stop on the Caucasian Challenge adventure rally. The minimal assistance rally, next taking place in August 2017, is a breathtaking journey from Istanbul to Yerevan, exploring the stunning scenery, remote roads, and famous hospitality, of the Caucasus.
Liked this article? Getting itchy feet to travel and find adventures? Then join us on the next
Caucasian Challenge
. Get a team together and let's see you at the starting line! If you want to join us in spirit, like us on
Facebook
or follow us on
Twitter
and
Instagram
to keep up with our latest antics.