Chiatura's ancient cable cars are one of the most interesting sites in the Caucusus.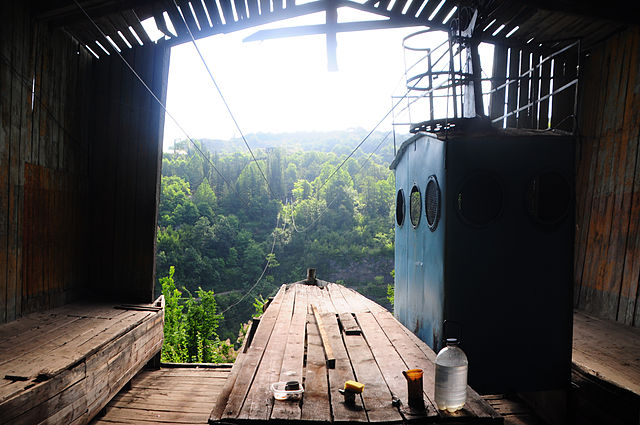 If you like cable cars, you'll love the Caucasus. Treat yourself to a trip on modern tramways which take you up to Narikala Fortress in Tbilisi, rise up from Batumi's harbour, and cross the magnificent valleys leading you to Tatev monastery in Armenia. However, if you want an authentic experience, hop onto Chiatura's ancient cable cars, which have been running twenty-four hours a day for more than half a century.
Chiatura
If you like exploring places off the beaten track then there's no better place in the Caucasus than Chiatura. Hidden away in the Western Georgian region of Imereti, not far from the breakaway territory of South Ossetia, you won't find this town in many guidebooks. However, it was once a thriving industrial community, the world capital for the mining of manganese. Though very much a shadow of its former self, Chiatura's ancient cable cars — built to swiftly transport miners from houses in the valley up to the mountainous mines — still operate.
Riding Chiatura's ancient cable cars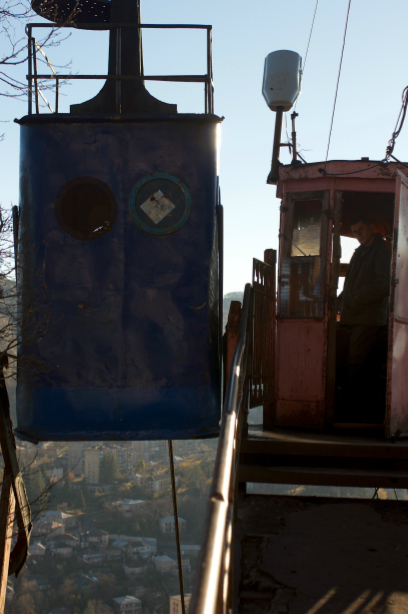 Actually taking a ride on the cable cars is very simple, so long as you have a head for heights and a taste for adventure. Running 24/7, they are completely free thanks to subsidies from both mining companies and the local government. Just find the lower station, and an attendant will open the door to let you on. Locals will often share the journey with you, and one some of the routes there will be attendant in the car for the entire ride. One of the cable car station was demolished late in 2016 to make way for new lines, but you can still go to the central station for either a short and steep ride or a longer more dramatic trip across the river.
Is it safe?
Don't worry about the rust. They've been going virtually non-stop for half a century, it would be incredibly unfortunate if disaster struck the day *you* took a visit. A cord did in fact snap in 2008, leaving 12 miners stranded mid-air for several hours. However, the recovery cord held firm and all aboard were saved, given compensation, and offered counseling. Once upon a time the cars could be filled with up to thirty miners. Nowadays the limits are far stricter, to be on the safe side.
What Else to See in Chiatura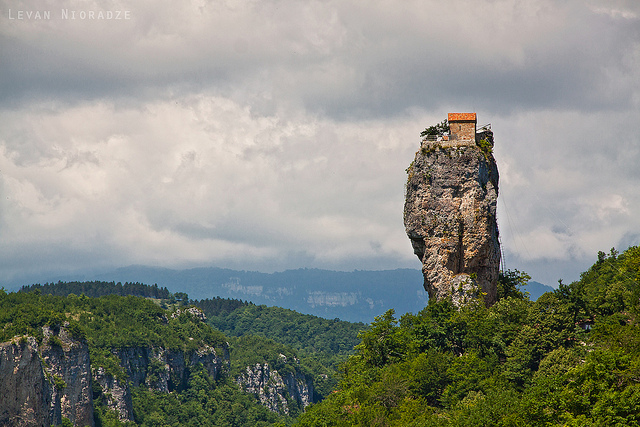 While the highlight of Chiatura is a ride on the cable cars, that's not all. Take a quick visit to Mgivmevi Monastery, built into to the rock as you enter the town from the West. Fifteen minutes drive on a winding road to the East is an even more impressive monastery, built on top of the Katskhi Pillar, 130 feet in the air. Similar to those found in Meteora, Greece, it's definitely worth seeing; see if you can spot the monk who lives on top. However, tourists are virtually never permitted to climb the pillar, and certainly never women. The town itself has a couple of restaurants with far cheaper prices than you'd find in Georgia's bigger cities!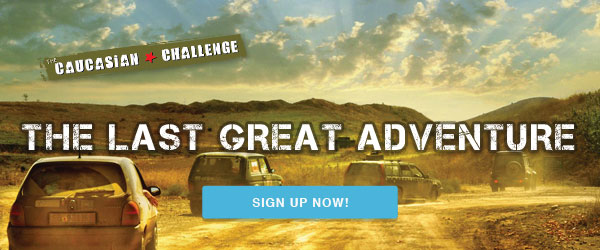 By far the easiest way to reach Chiatura is by car, and it's not too far off route for the Caucasian Challenge adventure rally; in fact, it makes a perfect excursion. The minimal assistance rally travels from Istanbul to Yerevan, exploring the wild roads, fascinating culture, and famously generous hospitality of the region. Join us in August 2017 for the 10-day, 4000km, epic driving adventure and you'll have plenty opportunity to see Georgia's incredible scenery, meet the notoriously friendly locals, and — of course — ride Chiatura's ancient cable cars!
Liked this article? Getting itchy feet to travel and find adventures? Then join us on the next
Caucasian Challenge
. Get a team together and let's see you at the starting line! If you want to join us in spirit, like us on
Facebook
or follow us on
Twitter
and
Instagram
to keep up with our latest antics.