One of the most exciting parts of each journey is the culinary one. New dishes, unusual herbs and spices, unknown flavors – indulging in the cuisine of another country surely already has added one or two kilo to your hips. Joining the Caucasian Challenge you'll have the chance to eat your way through Istanbul's restaurants and street stalls, before your adventure starts. This list of dishes miss in Istanbul is, of course, not exhaustive and completely biased by our own culinary taste.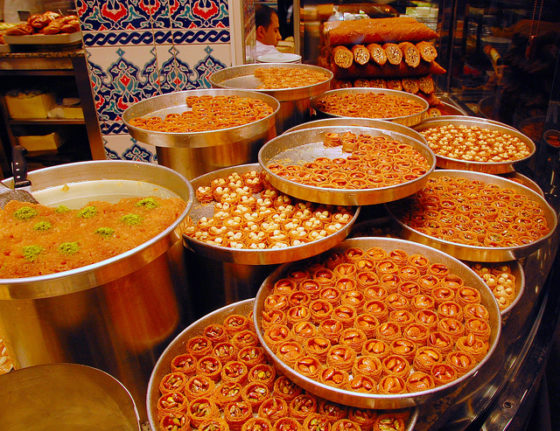 Iskender Kebap – Meat, Meat and Some More Meat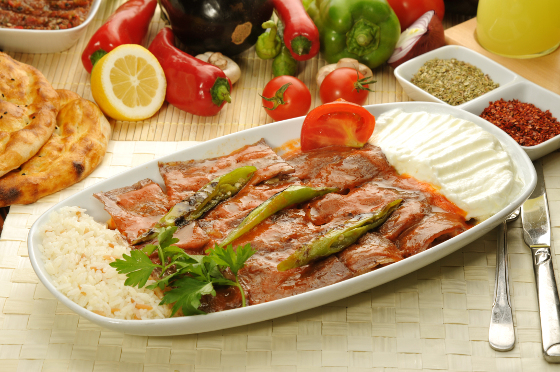 This dish is the right choice for the really hungry ones. You will get meat, lots of cut kebab meat, grilled on a spit and seasoned with local herbs. It's gonna be piled up on fresh pide, all that covered with tomato sauce, which is slowly soaking through the bread. Add some yogurt, and you are ready to feast.
Invented in Bursa, the former capital of the Ottoman Empire, the restaurant where Iskender Kebap was first served is still in business and, of course, serves the best one you can get. But since the route of the Caucasian Challenge will take you in a different direction, the Istanbul version will do just fine.
Baklava – It can't Get Much Sweeter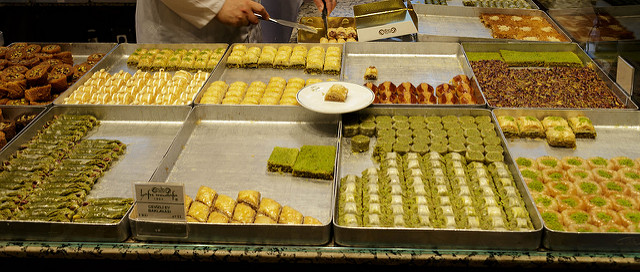 Incredibly sweet, this dish of layered dough filled with all kinds of nuts, soaked in sugar syrup or honey, is not exactly what we would call a "light" dessert. Baklava is often claimed by both, the Greek and the Turkish cuisine, as their own cultural achievement, but there are as many theories about the true origin of baklava as there are ways to fill it. And in the end, what does it matter as long as it is delicious!

Simit – The Quick One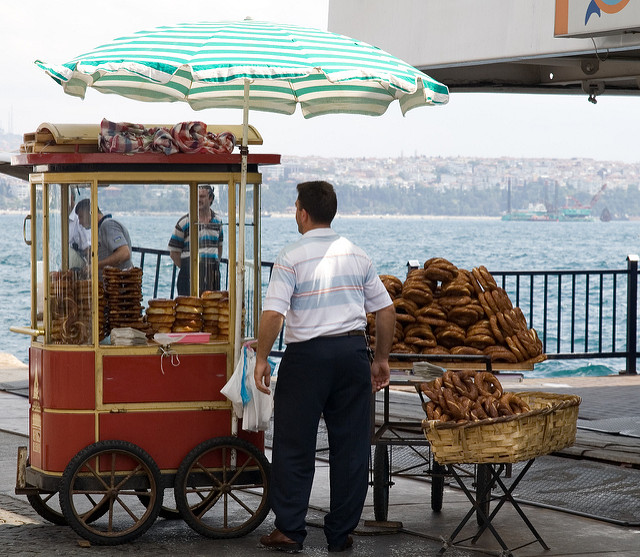 The crunchier Turkish cousin of the bagel is a must-try while exploring Istanbul. This circular bread, sprinkled with sesame seeds, is a simple snack without which the city's streets just wouldn't be the same. For the real experience, get it from a street vendor, who walk around with huge piles of Simit on a board on their head or buy it from one of the street stands or freshly from a small bakery. Simit has been produced in Istanbul since 1525, so one can assume that by now is should have reached pure perfection!
İmam Bayıldı – The Iman Fainted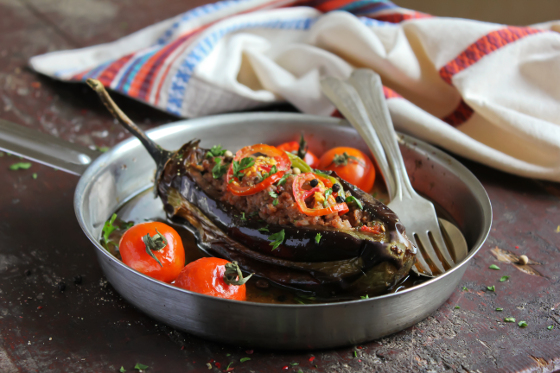 One of the favorites of Turkish cuisine, the eggplant, is stuffed with whatever ingredients are at hand, be it rice, minced meat or vegetables. With plenty of butter and olive oil the whole thing is put into the oven and baked till it is all smooth and delicious.
İmam Bayıldı means "The imam fainted", which leads us to two urban legends surrounding this traditional dish. Both involve an imam, who has been served stuffed eggplants by his loving wife. In one version he faints, because the dish is just too delicious. The other ones tells how the imam faints in shock, when his wife tells him that she ran out of the expensive olive oil which was part of her dowry and her husband needs to buy new one if he wants to ever taste his beloved stuffed eggplants again.

Balık-ekmek – Not Just Another Fish Sandwich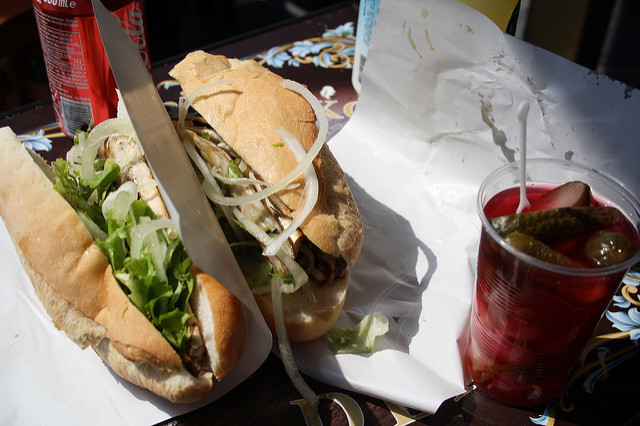 A sandwich filled with grilled fish, some herbs, lemon, chili and vegetables – nothing special you might think, but like with many things, it is about the story behind the dish.
Fishermen returning in the early morning from the Bosphorus and the Sea of Marmara are a common sight in Istanbul and have been so for centuries. Naturally, competition in selling the fresh catch is a tough one. So one day some crafty fisherman had the idea to cook the fish already on board and to sell it right from the second of his return to the coast, still hot and ready to eat. The brilliant idea was copied frequently and today the boats with the smell of freshly grilled fish are an inherent part of istanbul's cityscape.
The best known place to try this snack are the fancy boats in Eminonu, next to the Galata Bridge. While it is still good enough, it is a bit of a tourist trap with often lower quality fish for higher prices. Rather walk along the sea to one of the ferry stops or small cafes.
Lahmacun – A Feeling of Italy in Turkey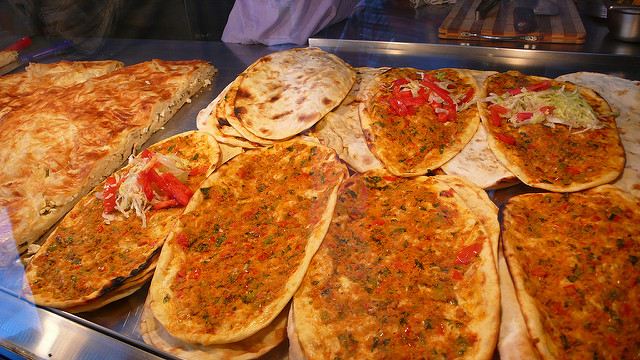 But not quite. What might remind of an Italian pizza at first sight is called Lahmacun, one of Turkey's most popular snacks. A very thin piece of dough is covered with minced meat, spices and generously sprinkled with herbs and a spritzer lemon juice. After a short visit in the oven, roll it up and enjoy it with a glass of ayran!
Börek – The Allrounder
Breakfast, lunch, dinner or just as a snack in between – börek is always a good choice! As versatile as the opportunities to eat this filled pastry, as versatile are the ways of preparation. It can be filled with minced meat, spinach or cheese and it can be rolled or layered.
Some say börek is one of the most ancient elements of Turkish cuisine, with an forerunner of today's börek already having been eating before the Turks even arrived in Anatolia.
Others say, börek is ancient food approbation on behalf of the Turks and has its origins already in Roman times. Be it as it may, we are grateful that it has stood the test of time.
Dürüm – When You Are in a Rush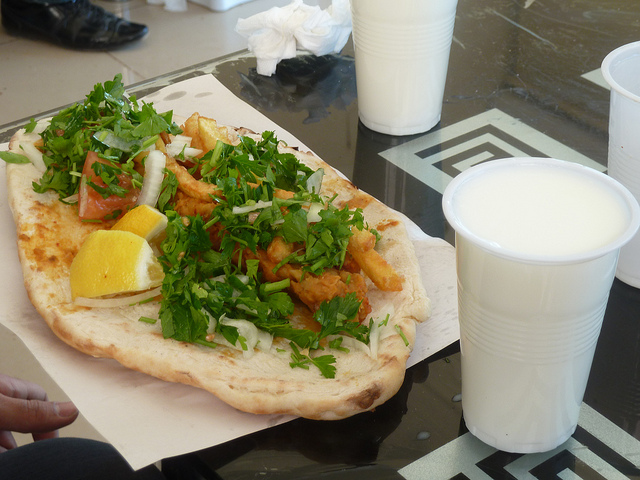 Dürüm is the perfect bite on the go. Meat, herbs and vegetable sprinkled on a flatbread, the whole thing rolled up and you are ready to go! Forget the dürüm döner you've tried at home, the real thing in Istanbul will open up whole new worlds of flavor to you!

And now loosen your belt a bit, so you are comfortable during our road trip across the Caucausus – the Caucasian Challenge!

Liked this story? Getting itchy feet to travel and find adventures? Then join us on the next
Caucasian Challenge
. Get a team together and let's see you at the starting line! If you want to join us in spirit, like us on
Facebook
or follow us on
Twitter
to keep up with our latest antics.