The seventh day is one of rest, and yours finds you in glorious Tbilisi, the Georgian capital. Thanks to its efficient public transport system, you're free to delve in and tease out its many charms in loose-limbed pedestrian mode. Here's how.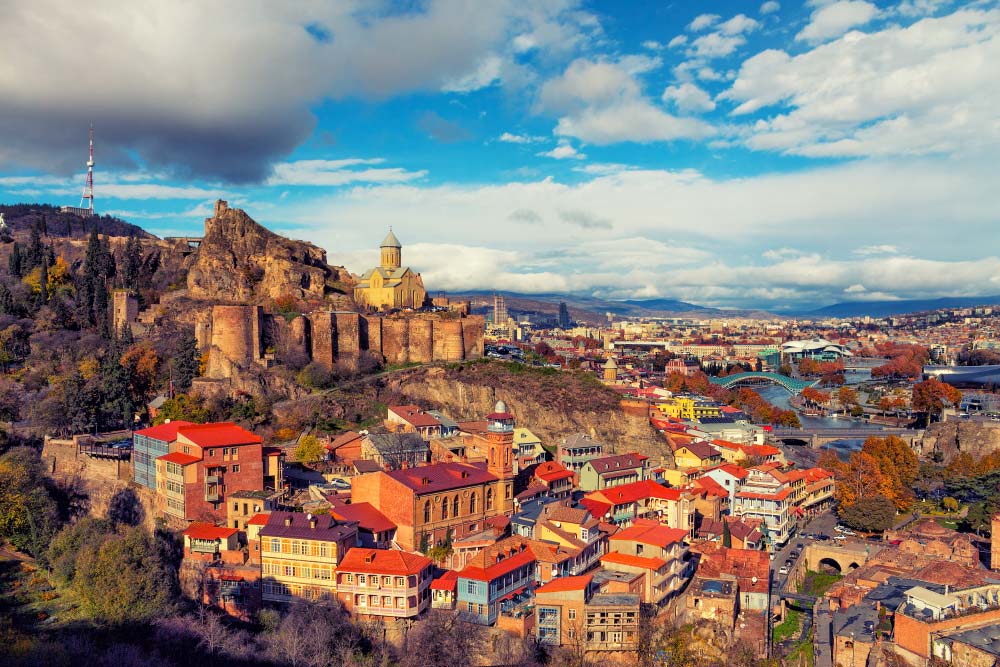 Overview

The public transport system in Tbilisi is operated by the Tbilisi Transport Company, and comes in two main (and three ancillary) forms: metro and buses (plus around 2000 minibuses, a funicular, and, thrillingly, cable cars).  The metro network  connects most major areas around the city  and operates on two routes, connecting at the central railway station. The large bus network also works reasonably well – here, you can further up your chances of arriving where you mean to head if you work out which routes you need to use in advance and take a map –  this one  should work well. You can also avail yourself of TTC's app here.
Metro Network Need-to-Know in a Nutshell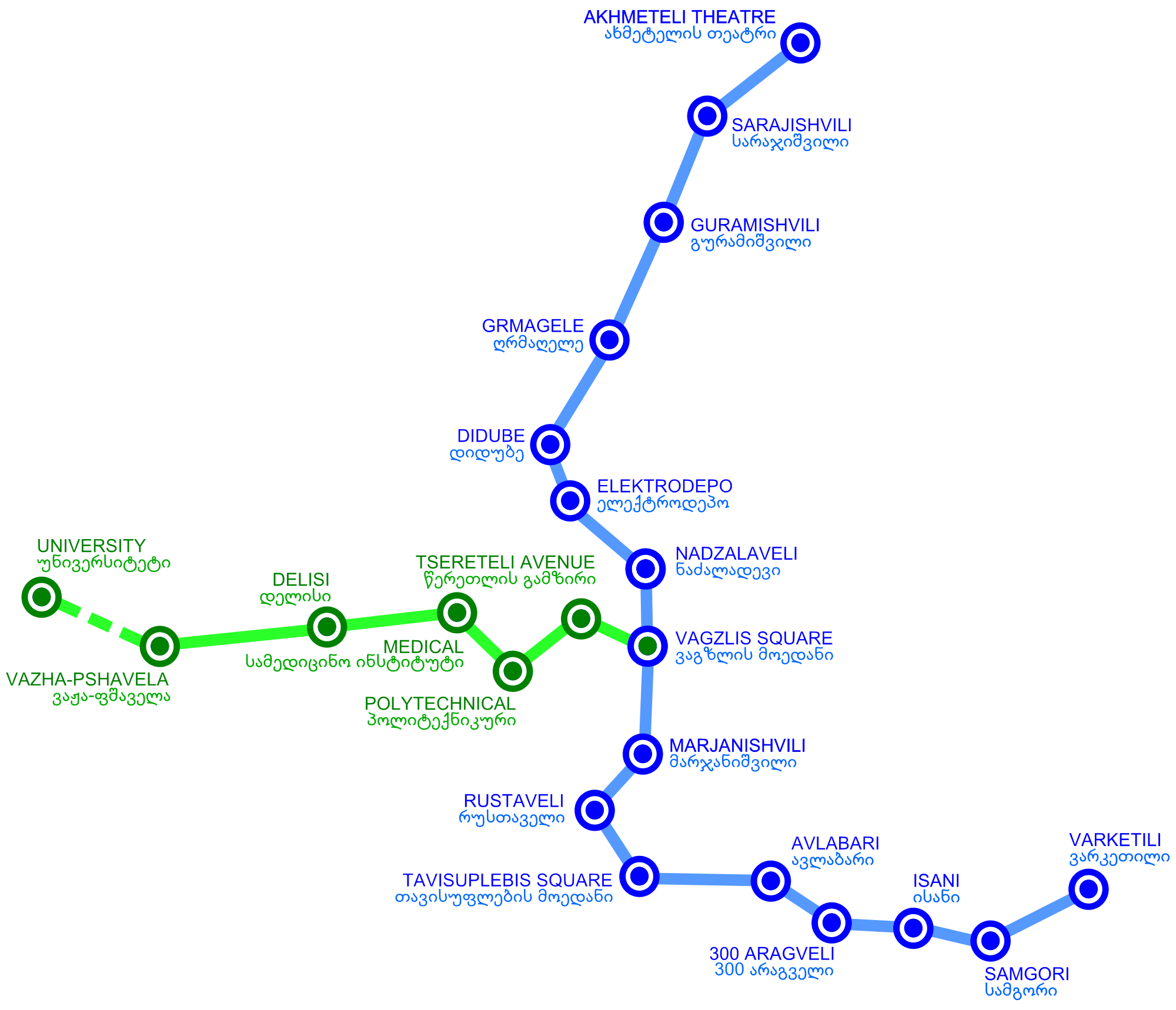 Trains run every five minutes or so and the metro signs are now in both the latin and georgian characters (yay!). Also, announcements inside metro trains are made in both Georgian and English (double yay!). Tickets for a metro ride are half a Lari flat fare and you need to have a smartcard. You can buy these at metro stations for two Lari and later  top  up with money as needed.
Tbilisi Bus Factfile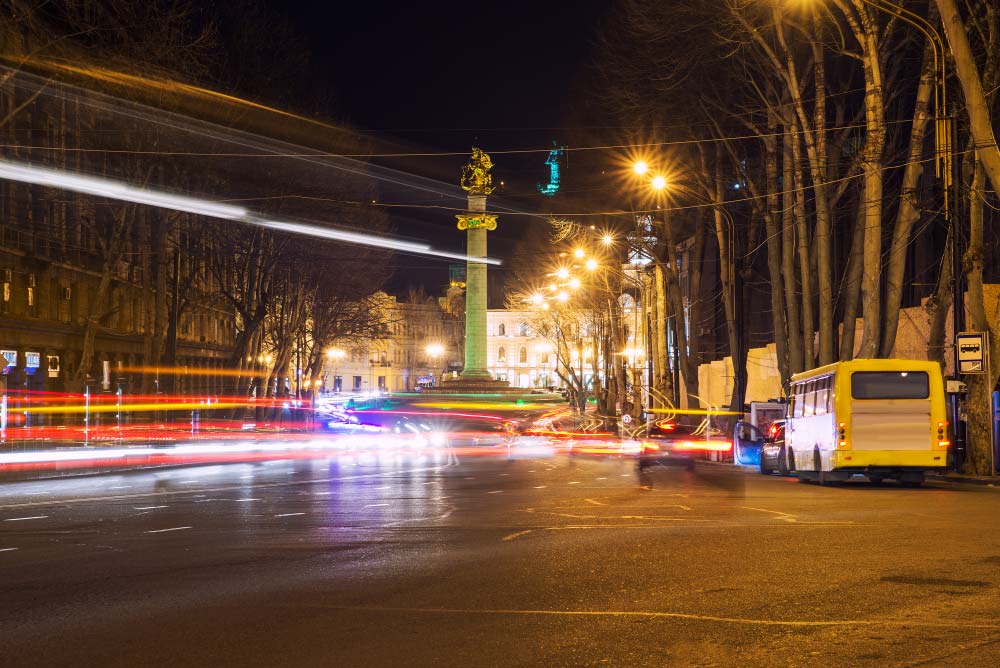 As you emerge from underground back into the sun, keep your smartcard in your hand, because it also works on buses. Get on a bus at any door and go to one of the ticket validation machines. Hold your smartcard  against the top, press the top button for an adult ticket and take a ticket. If you don't have a smartcard, you can use cash: put half a Lari in the machine and take a ticket.  Every time you change a bus (or any other form of transport), you must pay another fare – there are no transfers. Oh, and revenue inspectors are very common, so you're definitely better off getting your dopamine boost elsewhere, say, at one of the ancillary strands of the Tbilisi public transport network…
Cable Cars!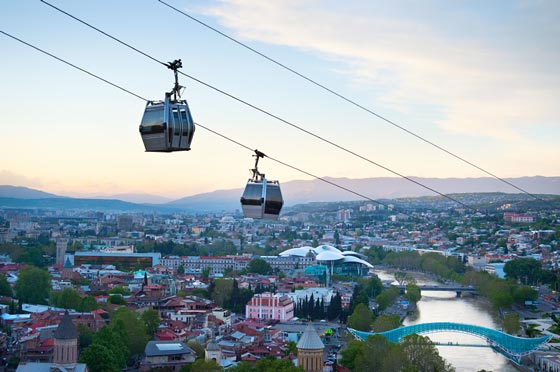 They've graced the city's transport network since June 2012, sparkle and gleam with brand new western technology –  they have super comfortable seating, air conditioning and  large, tinted windows that provide excellent all round views.  These pods take you from Rike park and the magnificent Bridge of Peace, across the Mtkvari river, over the recently renovated rooftops and buildings of the Old Town, up to Narikala, the fortress that overlooks the city, in just under two minutes. Rides cost two Lari each way, and yes, your smartcard works here too. When you disembark at Narikala you are not encouraged to linger on the platform for safety reasons. Don't worry, you can take great pictures of the cars arriving and departing from outside the platform. Use the revolving barrier to exit. Here you will find an enchanting path through this 4th century wonder that eventually takes you to  the old church and the baths at the bottom. If you're on a roll, and feel like savoring the splendid views from another angle in the city, you're in luck, because here's also…



Funicular Fun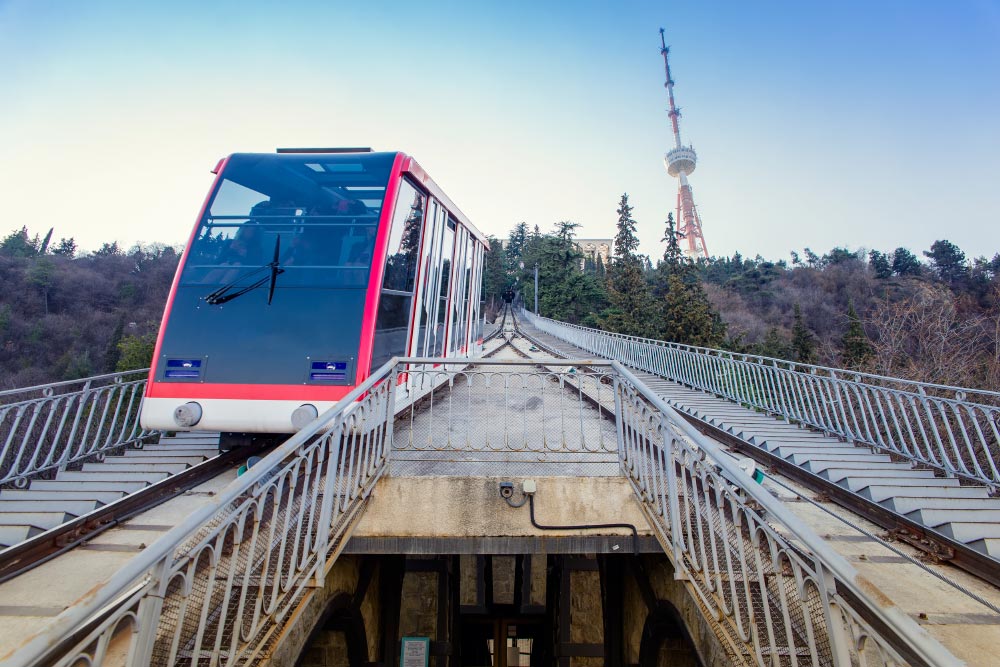 In sharp contrast to cable cars, the funicular goes back over a 100 years. In 1900, the city government commissioned the Belgian engineer, Alphonse Roby, to construct a funicular. The 500-meter long line was opened in March 1905. It consisted of three stations, the lower on today's Chonquadze street in the city, the Pantheon stop near the Mtatsminda Pantheon and Mtatsminda, at the top of mountain. It was closed in 2000 following an accident, but reopened in 2012 after a comprehensive reconstruction project that renovated the stations and replaced the drive mechanism, rails, cars and safety equipment. A ride costs two Lari, but you also need to have a smart card to use it. Cars run every 10 minutes from 09:00 a.m. to 04:00 p.m. And finally…
Is it a Taxi? Is it a Bus? Neither: it's a Marshrutka!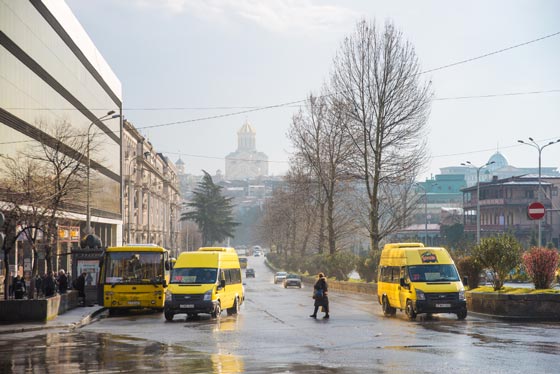 This 2000-strong swarm of bright yellow Ford Transits might strike you as a fleet of wayward vehicles that might have once dutifully inched around in the everjam on the M0 around London, before staging a riot and breaking away to freedom. If so, it seems to have paid off: although they follow fixed routes around the city, they stop on request anywhere (hail and ride). These charge up to 0.8 Lari depending on the route.
Inspired? Can't wait to set foot in Tbilisi and explore it? Take your chance during the Caucasian Challenge – an exciting adventure trip across the Caucasus!
Liked this story? Getting itchy feet to travel and find adventures? Then join us on the next
Caucasian Challenge
. Get a team together and let's see you at the starting line! If you want to join us in spirit, like us on
Facebook
or follow us on
Twitter
and
Instagram
to keep up with our latest antics.