Day 10 of the Caucasian Challenge was dedicated to secret adventures, which we can't really tell you about.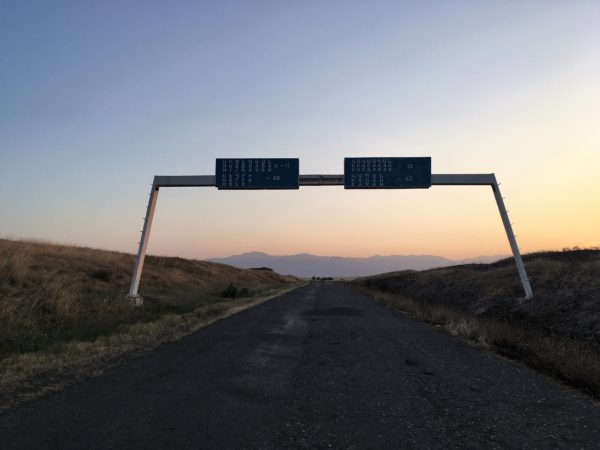 On Day 10 of the Caucasian Challenge we explored Nagorno-Karabkh, before driving along the Iranian border on our way to Kapan, in Southern Armenia. We can't tell you everywhere we explored, but it was a long day, very long for some, encompassing bureaucracy, history, roads of varying quality, and sunsets of remarkable beauty.
Stepanakert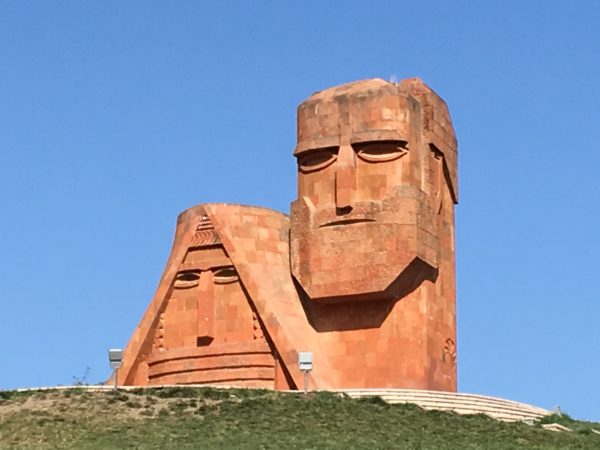 The tenth day of the Caucasian Challenge began with a journey to Stepanakert to obtain our Nagorno-Karabakh visas. All of us, that is, apart from team Llanfair Railway: ever organised, they'd found time to pick theirs up the previous afternoon. As we entered the Karabakh capital, we stopped to admire the "We Are Our Mountains" monument, known by locals as the "Grandma and Grandpa". These red stone faces are highly symbolic for Karabakh, so much so that when they featured in Armenia's Eurovision video in 2009, Azerbaijan was furious; of course, they consider the region their territory. The city itself was surprisingly modern, having benefited from much investment from Armenian diaspora, and the visa process was swift.
South to the Iranian Border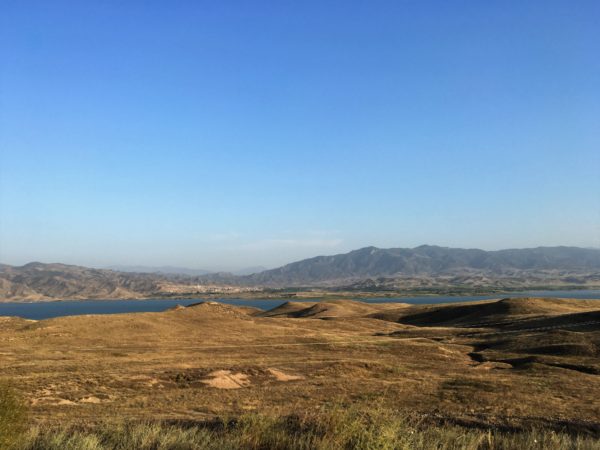 At this point the adventure rally began exploring dangerous territory, along the edge of the no-man's land between Nagorno-Karabakh and Azerbaijan. There has recently been an heightening of tensions, with last April seeing the most casualties since the war ended two decades ago. This is naturally not a place that is recommended (or permitted) as an excursion, even for intrepid adventurers, so in order not to annoy our new camouflage-clad friends, with whom we had a long chat, it's best not to go into the specifics of where exactly we went. We drove South, and the devastation from war was all too apparent: towns stand deserted, buildings destroyed, with nature gradually reclaiming dominance. We ended up driving alongside the Iranian border, and Team Llanfair Railway even tried their luck at getting across (to no avail)!
Driving to Kapan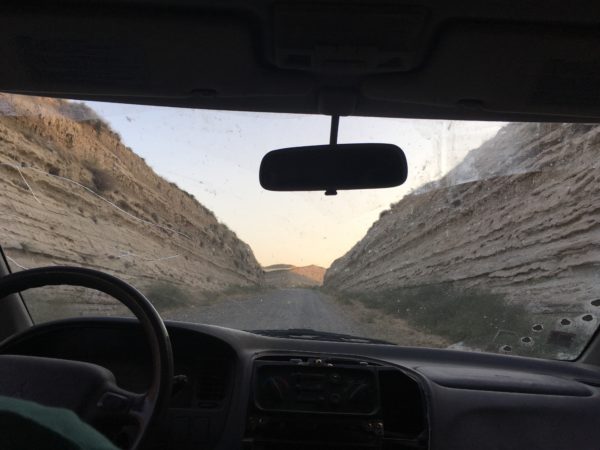 After a beautiful evening driving west towards the setting sun, we crossed back to Armenia (again with no border stop) and arrived at our rather soviet hotel in Kapan. Here we celebrated the birthday of Floris, of Team Care Bears, with vodka-infused watermelon. Locals at the restaurant may have been confused why Tom (a doctor) and Jimmy (not a doctor) were using syringes at the table, but the results were delicious, and strong…

Liked this article? Getting itchy feet to travel and find adventures? Then join us on the next
Caucasian Challenge
. Get a team together and let's see you at the starting line! If you want to join us in spirit, like us on
Facebook
or follow us on
Twitter
and
Instagram
to keep up with our latest antics.