We look back at the first three days of the Caucasian Challenge 2016.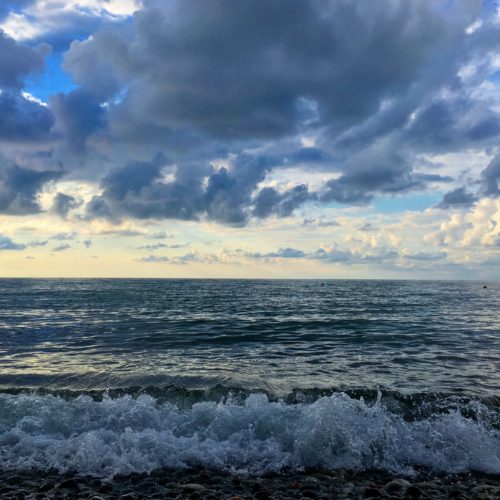 There are now only six months till the Caucasian Challenge begins. That means half a year has passed since the Caucasian Challenge 2016, which means it's time to look back at all the adventures we had. This week we'll be revisiting the stories and photos we gathered as our gang of hardy adventurers drove all the way from Istanbul to Yerevan, exploring the magnificent landscapes and incredible roads of the Caucasus. On the first few days, teams raced along smooth roads beside the Black Sea, crossed the border to Batumi before getting their first taste of the Georgian countryside.
Caucasian Challenge 2016 Day 1: Leaving Istanbul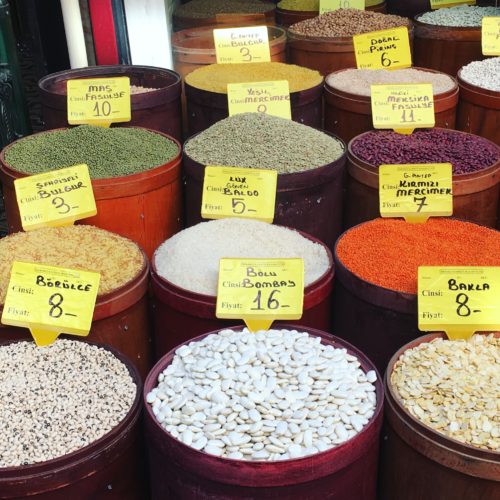 The event began in Istanbul, ensuring that all teams had as much time as they liked to explore the city's magnificent history, crowded bazaars (filled with colourful spices, pictured above), and sumptuous cuisine. On the morning of August 16th, the official hotel in the East of the city played host to an early morning briefing held by chief Travel Scientist Aravind, where he explained what the rally held in store, and gave advice about the challenge ahead. The teams — including several fun-loving Belgians, a pair of world-travelling Brits, and two Hungarians in a very vintage, very compact old car — listened carefully, introduced themselves, and then hit the road.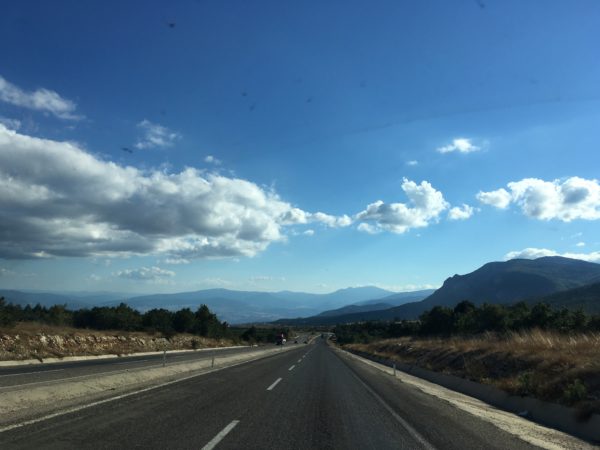 The first two days of the challenge presented one simple goal: get to Georgia. With that in mind, the teams speeded across Turkey's Northern coast without too much deviation (though that didn't stop the Team Wired Mango getting delayed for hours among hill-top villages after discovering that the roads on their adventurous route had been destroyed by mudslides). While driving wasn't too problematic, beautiful Black sea views were a constant companion. The first night was spent camping at Sinop beach, close to Turkey's most Northern point. Teams had beers overlooking the waves, and some even took the opportunity to have a swim.
Day 2: Along the Black Sea to the Border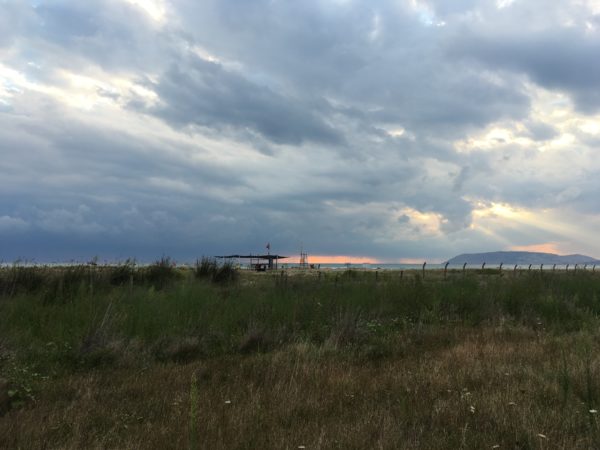 The driving required on Day Two was relatively straightforward, with smooth roads passing major cities like Samsun and Trabzon, teams often being treated to sea views to their left and lush forests to their right. However, the border wasn't so straightforward. Teams were greeted by waiting times of over seven hours, due to temporary excessive security following recent political events in Turkey. It wasn't all bad though: one team were luckily enough to befriend a bus driver who offered drinks, snacks, and even space to nap on the back seats! The wait wasn't pleasant, but it did mean that the teams were even more pleased to arrive in Georgia! It was a long night for some teams, but the beautiful city of Batumi was waiting for them. With its 19th Century architecture, busy harbour, and popular beaches, Georgia's second city was the perfect introduction to the Caucasus.
Day 3: The Real Driving Begins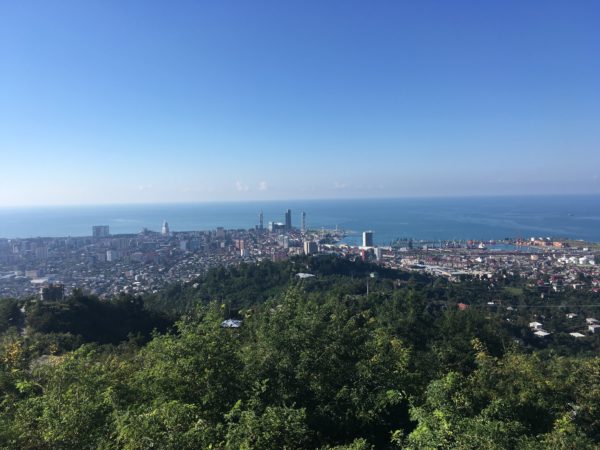 Following a much-enjoyed breakfast at Hotel Golden Fish, the driving on day three was a welcome change from Turkish highways. Along the day's route roads were in various states of disrepair and almost immediately one constant menace became apparent: cows on the road. They are a regular presence while driving in Georgia, and you quickly learn that they don't care at all whether you want to get past. However, the scenery was worth the wait and there were many glorious forests and valleys to drive through.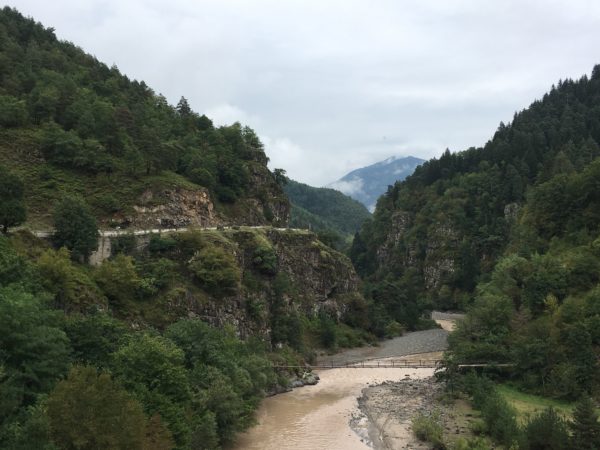 Teams drove up to the Goderzi Pass, which reaches over 2000m above sea level. At the highest point teams encountered a junction of sorts, with a few sparse buildings including what claimed to be a "fast food restaurant": this turned out just to be a tiny shop selling snickers and drinks. Here the Team Wired Mango asked a local women for directions: she, however, saw an opportunity and asked for a lift. The team took this elderly hitch-hiker half an hour down the road. Attempts to communicate with her proved mostly futile: she only spoke Georgian, which nobody had yet taken the time to learn. She was very grateful for the ride though!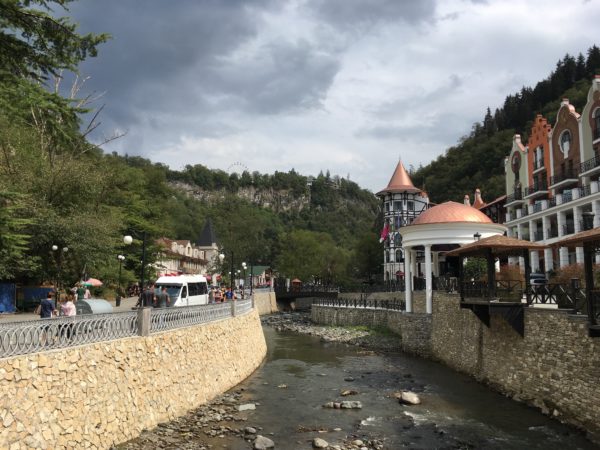 After the smooth asphalt of Turkey, a day spent driving on cliffside paths strewn with potholes was an exciting experience. Luckily, participants could relax by stopping off at picturesque Borjomi (pictured above), which produced the Soviet Union's finest mineral water, and now a popular tourist resort. The final destination of Day Three was Kutaisi, a city with ancient roots: it was the capital of the Kingdom of Colchis, where Jason and the Argonauts are said to have journeyed. It's now regarded as the capital of Western Georgia, and is home to the National Parliament. It was time for a well earned rest, with just enough time to enjoy the balcony views from the riverside Hotel Imperator, a special way to end the first day in Georgia.

Liked this article? Getting itchy feet to travel and find adventures? Then join us on the next
Caucasian Challenge
. Get a team together and let's see you at the starting line! If you want to join us in spirit, like us on
Facebook
or follow us on
Twitter
and
Instagram
to keep up with our latest antics.