As first state to ever adopt Christianity as official religion, Armenia naturally boasts with antique religious artifacts and monuments. In the remote and touristic rather untouched Southern Armenia, those ancient remains combine with wild mountain ranges, crossed by deep valleys and dark gorges to and impressive sight throwing you back right into the middle ages.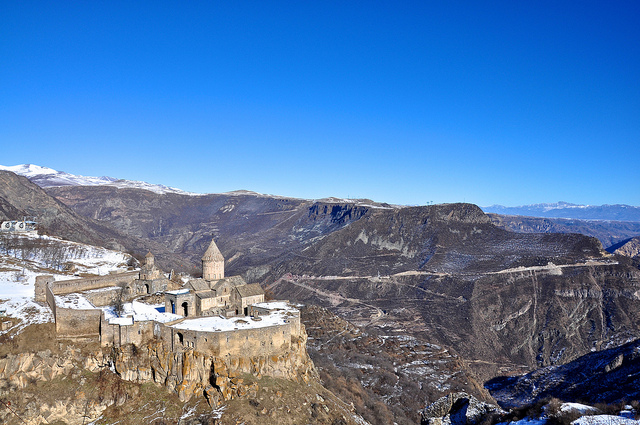 One of the relics of the pasts is Tatev Monastery, situated on a basalt plateau on top of a 850 m deep gorge. Where it is not protected by deep ravines, thick walls prevent anyone who is not welcome to enter the impressive complex built between the 9th and 13th century.
The road up there is long and winding, but if you are too scared to drive it or to lazy to walk it, there is another option: The Wings of Tatev, with 5,7 km the longest reversible cableway built in on section, which allows safe and easy access to Tatev all your round. But especially in summer a hike might be worth the effort, allowing you to visit Satan's Bridge, a natural land bridge at the foot of the cliffs. Refill your water bottles at the carbonated spring along the road or dip into the the pool for a refreshing bath, before you gather your strength for the hike up to the monastery.  
Officially Tatev was named after the martyr St. Eustatius, which over time changed to Tatev. The locals like to believe in a a little bit different story: An apprentice climbed up on top of the main church during its construction, to place his own cross up there. He was discovered by his master, and with shock lost hold and started falling,  praying to god 'Togh astvats indz ta-tev' – 'God give me wings.'
The construction of the monastery began in the 9th century, when it became the seat of the bishop of Synik. Growing constantly in its economical and political importance, it was repeatedly extended, till it housed the impressive number of 1000 monks and numerous artisans at the beginning of the 11th century. A newly established university teaching humanities, philosophy, literature, calligraphy and painting of miniatures, among others, finally made Tatev monastery one of the region's most important centers. During its heyday, the monastery owned 47 villages and received tithes from almost 700 more.
The whole complex consists out of three churches. Sts. Paul and Peter being the oldest remaining construction, built in the 9th century, once decorated with flamboyant frescoes of which little have remained.
St. Gregory Church was built shortly after, while St. Mary's church originates in the 11th century. Additionally you can find a library, dining hall, mausoleum, oil mill, bakery, winery and various administrative buildings. Everything is fortified with thick walls, trying to fend off repeated destruction during unstable political times.
A special architectonic feature is the Gavazan, erected in the 10th century and dedicated to the Holy Trinity. This 8 m tall pillar out of small stones and with a kachkar on top of it, reacts to the smallest seismic movements, but always returns to its original position. As such it has the very profane function as early seismograph.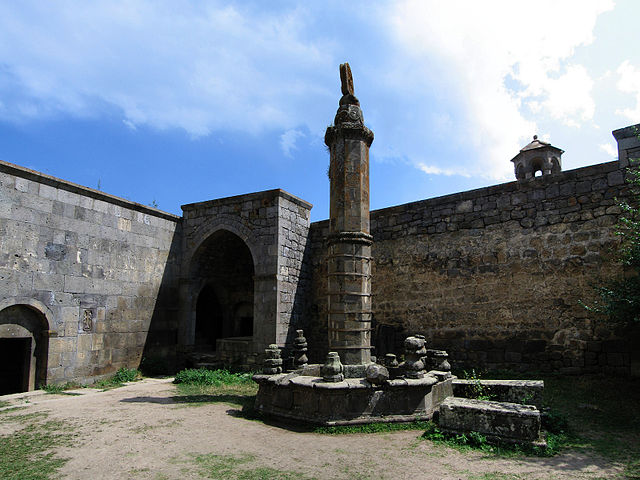 Over the last millennium, Tatev Monastery has been subject to repeated destruction by human and natural forces, decline and following reconstruction. But even after a devastating earthquake in 1931 it has largely been rebuilt and stands as show case of human persistence against all outer forces, enabling us to still admire its magnificence till today.  So take your chance during the Caucasian Challenge and visit this remnant of Armenian history while you still can!
Liked this story? Getting itchy feet to travel and find adventures? Then join us on the next
Caucasian Challenge
. Get a team together and let's see you at the starting line! If you want to join us in spirit, like us on
Facebook
or follow us on
Twitter
to keep up with our latest antics.