We love Sinop so much that we usually spend two days in this city, but this year was different. Knowing that a very long journey awaited us today, we had to take off early in the morning in order to reach the new camping spot in time. But that didn't quite happen as planned…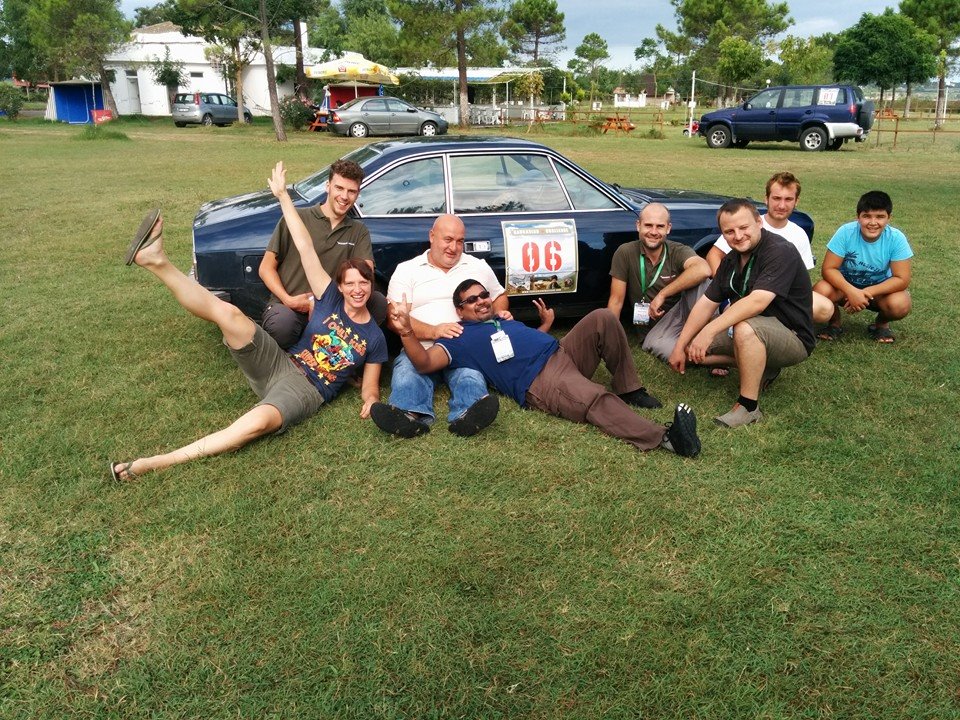 Before we said our goodbyes the Sinop Times paid us a visit and interviewed some of the participants. We had a fun photo shoot for the newspaper, so we all got to feel like VIPs for a short while. 
Then we spent a big part of the morning explaining our friendly host at Marti Camping that we were leaving sooner than he'd initially expected. It took some time to convince him that we were not rushing off to get away from him, but made changes to our usual route and needed to leave early. Soon enough we were all back on the road and we knew this was going to be the longest day of the Caucasian Challenge.
Why? Because of the 3 km-long Sarpi border between Turkey and Georgia. Anyone who's been in these parts of Asia knows how things go around here: if you pay, you may cross; if you don't, you wait. Many travelers start off thinking they can wait it out, only to end up losing their patience after a few hours. And who can blame them? So they end up paying $60 to $80, only to be able to cross the border quickly and smoothly. Locals use every trick in the book to make some extra money out of this. They come up to you and offer to "help" you move along faster, in exchange for some dough.
If you're not willing to pay, prepare yourself for a nerve-wrecking wait that can take several hours of your precious time, and possibly make you want to jump in front of a car. So with all the delays and our refusal to pay the bribe, our adventure driving in Georgia started out on the wrong foot and we arrived last in Batumi, at 2 am. We even got there after the Danish teams, figuring this was a break from the tradition they've created over the past couple of days.
After a 768-kilometer drive and an excruciatingly long wait at the Sarpi border, it felt great to rest in our comfortable beds at Hotel Vanila. Those who got here early – and not way after midnight, like we did – had a chance to take a look around Batumi, a seaside city located on the Black Sea coast.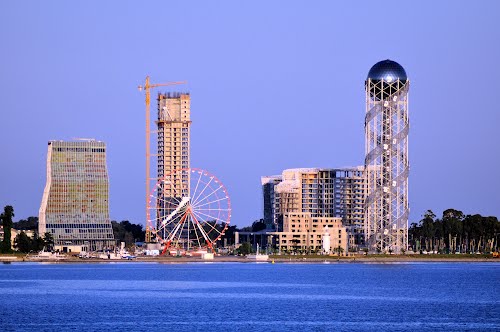 We've always been fascinated by the beauty of this city. We just can't get enough of it and those who have been with us on the Caucasian Challenge in the past few years know exactly what we mean. The delicious food and the awesome pubs you'll find here will keep you coming back time after time.
All in all, it was a very long and exhausting day, and a good night's rest in Batumi was exactly what we all needed. Getting a taste of the local culture is always a refreshing way to recharge your batteries. If you've been on any adventure, anywhere in the world, you know that exploring new surroundings will only leave you hungry for more. Tomorrow is a new day and we're heading for Kutaisi. Get ready to discover more of this captivating country!