Driving in the Caucasus can be somewhat of a challenge for Europeans and Americans, not just because of the difficult mountain trails or occasional potholes in asphalted roads; it's because of the crazy drivers.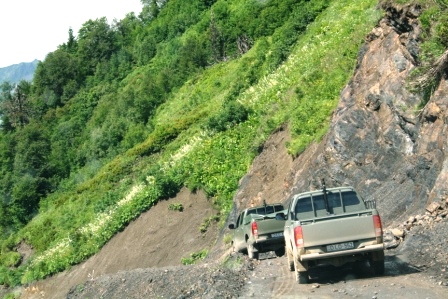 As you leave Europe and head East, driving habits only seem to get worse. Prepare to enter a world where rules are considered to be mere guidelines or recommendations, instead of compulsory procedures. 
While bad driving is something common in most parts of Eastern Europe and Central Asia, it tends to be taken to a whole new level in Georgia and Armenia. If you join us on the Caucasian Challenge, you'll understand exactly what we mean.
Our experience tells us that locals don't care much about rules and regulations, and this is especially the case in villages. Speed limits are a joke and respecting the rights of other traffic participants is optional. Another common habit among those driving in Georgia is having a glass (or two, or three!) of chacha before heading out on the road. In fact, locals even recommend it!
Police officers rarely bother with problems such as traffic discipline. Maybe they're used to the Georgian style, or perhaps they're too busy with other things. So when you're driving in Georgia, be extra careful. They only have one rule: every man for himself!