One of the most exciting parts of the Caucasian Challenge is our jaunt into Nagorno-Karabakh. We firmly believe adventure is still out there, and while the remote regions of the world are becoming more accessible and more touristic, places like Nagorno-Karabakh are still hidden away.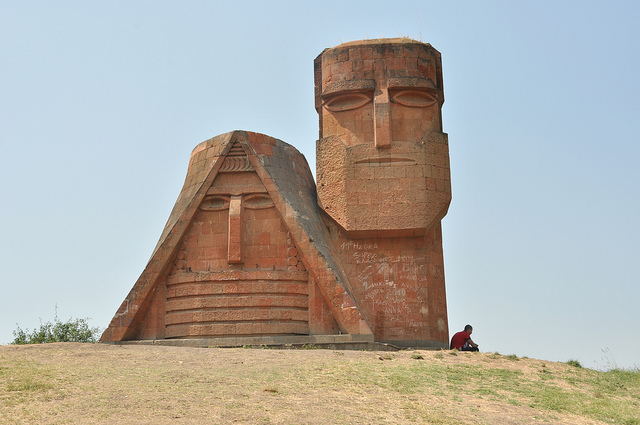 The area, whose name translates as "Black Garden", is a de facto state belonging officially to Azerbaijan, but is under Armenian control. When you look at the map at Nagorno-Karabakh, you can see that it's slightly detached from Armenia proper. The official point of entry into Nagorno-Karabakh goes through the small strip of land known as the Lachin Corridor, which connects Armenia and Nagorno-Karabakh. If you're traveling here by marshrutka or taxi, this is the way you'll come in. However, if you opt to go by car and take a different way in, it's also possible, but it means crossing the eerie demilitarized zone also know as "no-man's land".
Around Nagorno-Karabakh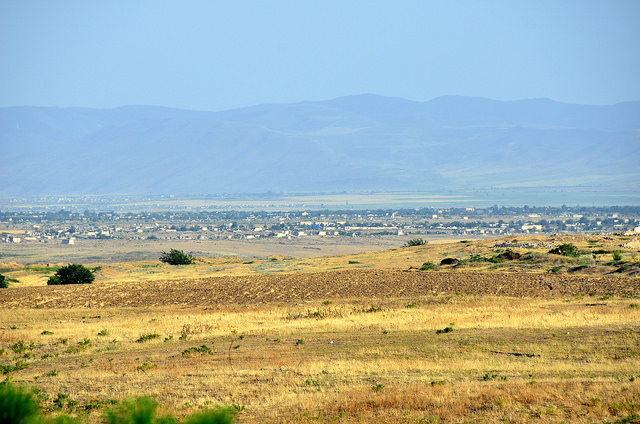 As we mentioned before, the region officially known as Nagorno-Karabakh doesn't share a land-border with Armenia, except for the strip of land connecting it at the Lachin Corridor. However, there is ceasefire zone bridging Armenia and Nagorno-Karabakh that is sometimes listed as being part of the Nagorno-Karabakh republic, but actually counts as Azerbaijan (Nagorno-Karabakh is also technically a part of Azerbaijan too, but under Armenian control). Of course, there are also demilitarized zones on the edge of Nagorno-Karabakh too, where it's a slight risk to travel there.
Points of entry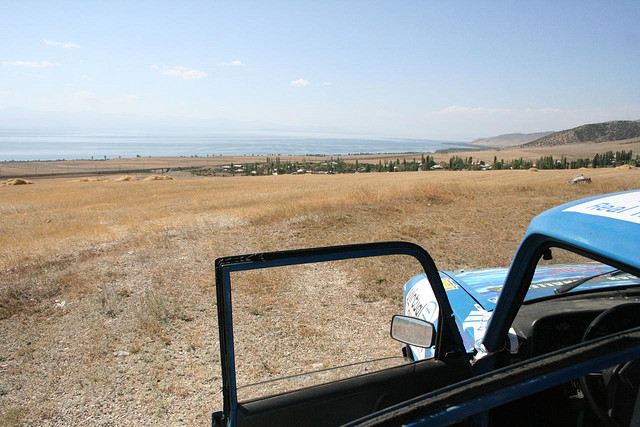 Even though in theory you can't really take this route, we've taken it for many years and a number of tourists have also driven through the ceasefire zone before. When you leave the official Armenian border, we don't even get a stamp in our passport, since there is no way to cross out of Armenia via Nagorno-Karabakh. We take the Sotk Pass going towards Vank, and the border going into Nagorno-Karabakh is usually so relaxed, sometimes we've driven through without any border guard wanting to check our papers.
Leaving Nagorno-Karabakh, there is the option to cross back out into the ceasefire zone on the Meghri-Kapan road, which takes us along the Iranian border. This is a terrifying road, but that makes it all the more fun, and the drive along the Araks River is pretty spectacular, and you'll also have amazing views of Iran just across!
However, because borders and roads shift in this region all the time, and the situation is one that's volatile, we're always keeping our route up-to-date, but that's part of the adventure isn't it? Exploring the dangerous unknown?
Agdam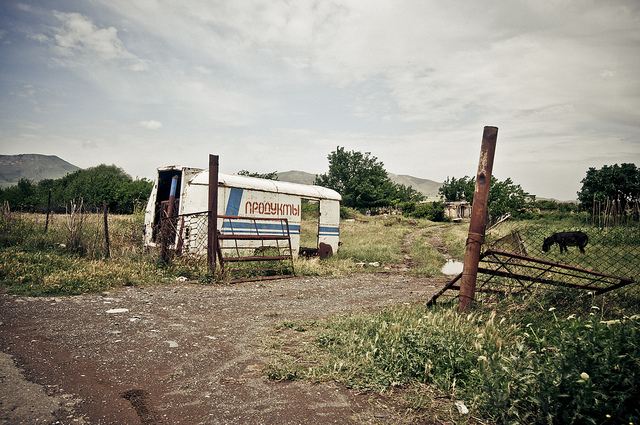 The demilitarized zone in Nagorno-Karabakh between the fringe of Nagorno-Karabakh and the heart of Azerbaijan is an area that is particularly interesting. The ghost city of Agdam is technically off limits for tourists, but there are some taxi drivers who will take visitors there for the right amount of Drams. When we're in our own cars, it also makes life a little easier to skirt the route ourselves.
With its eerie abandoned houses and spectacular towering mosque, it's easy to see why so many want to visit Agdam while stating in Stepanakert. There is an element of risk attached to it, but as long as you are quiet, and discretely take photos, you'll be fine. In fact, if any of the soldiers come over, be polite, they're more likely curious to see what you're up to more than anything. We've never really been bothered by them.
Liked this article? Getting itchy feet to travel and find adventures? Then join us on the next
Caucasian Challenge
. Then get a team together and lets see you at the starting line! If you want to join us in spirit, like us on Facebook or follow us on Twitter to keep up with our latest antics.
Follow Us
[social_stickers]