The Hagia Sophia has a history like no other building.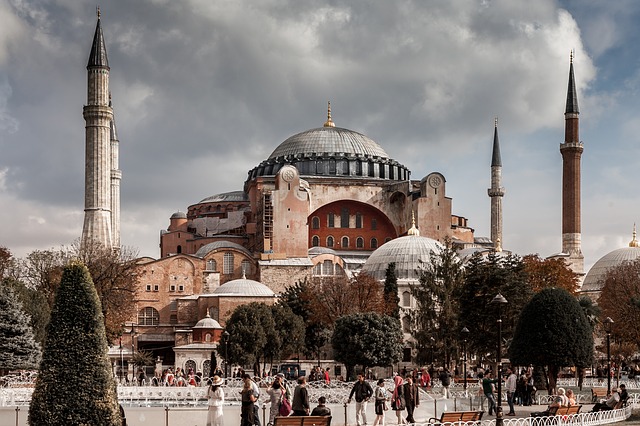 The Caucasian Challenge begins in magnificent Istanbul, and before we head east to the Caucasus, there is time to explore this incredible city. There's a lot to see and do, but nothing is quite as essential as a visit to Hagia Sophia, which for over a millennium was the world's largest cathedral, and is now a national landmark. The history of Hagia Sophia — church, mosque, and now museum — is inextricably linked with that of Istanbul itself.
Hagia Sophia the Church
The construction of Hagia Sophia began in the early 6th Century, when Constantinople (the previous name for Istanbul) was the heart of the Byzantine Empire. It began life as a Greek Orthodox temple, initiated by the emperor Justinian 1 on the site of two previous churches, and dedicated to the Holy Wisdom. It was the first Christian cathedral in the Roman empire, of which Constantinople had been capital since 330AD. The enormous dome was an astonishing feat of architecture for the time, and ensured Hagia Sophia remained the world's largest cathedral until the construction of Seville Cathedral in 1507.
Hagia Sophia the Mosque
In 1453, Istanbul was captured by Ottoman forces under the command of Mehmed the Conqueror. The city was pillaged, and frightened citizens sheltered in Hagia Sophia; when the doors were barged down, men were killed, women and girls were raped, while boys were captured to be sold into slavery. Rather than destroy Hagia Sophia, a symbol of the previous regime, it was decided to turn it into a mosque. Christian elements — bells, alter, and depictions of Jesus — were destroyed, making way for Islamic-style pulpit (the minbar), Mihrab, and, of course, minarets. Istanbul soon became the center of what would become a vast empire, and Hagia Sofia was an impressive centerpiece.
Hagia Sophia the Museum
The Ottoman empire peaked during the 16th and 17th centuries, followed by gradual decline, but did not collapse entirely till after the First World War. Revolutionary leader Mustafa Kemal Atatürk became Turkey's first president in 1923, preaching values of modernization and secularism. In 1935, Hagia Sophia ceased to be a mosque, and became a museum, where performance of religious ceremony was strictly prohibited. It has become one of the world's most popular attractions, and is highly recommended for all participants of the Caucasian Challenge. However, in recent years Hagia Sophia has once again become home to Islamic worship: since 2013 the minarets have sounded the call to prayer twice a day and 2016 marked the reinstatement of Muslim prayers. Many religious figures within Turkey demand that the Hagia Sophia once again become a mosque.
Turkey's Other Hagia Sophia
Once the Caucasian Challenge has begun, teams race along the coast of the Black Sea, stopping for a night at the gorgeous beach at Sinop. We then head for the Georgian border, but often make a brief stop in Trabzon, which happens to have a Hagia Sophia of its own! This other Hagia Sophia isn't quite as old or impressive, although it is regarded as one of the finest examples of Byzantine architecture and certainly makes for a pleasant stop. Built in the 13th century, and converted into a mosque in the late 16th century, it was briefly a makeshift hospital in the 20th century, before becoming a museum in the 1960s. Perhaps leading the way for its more illustrious namesake, Trabzon's Hagia Sophia was converted back into a mosque in 2013.

Liked this article? Getting itchy feet to travel and find adventures? Then join us on the next
Caucasian Challenge
. Get a team together and let's see you at the starting line! If you want to join us in spirit, like us on
Facebook
or follow us on
Twitter
and
Instagram
to keep up with our latest antics.
Writer
at
Travel Scientists
David is a writer currently living in Tbilisi, Georgia. Originally from Scotland, he graduated with a degree in philosophy from the University of St Andrews. Previously based in Budapest, he loves all things Eastern European having traveled widely in the Balkans and Caucasus; he's currently trying his best to learn Georgian. When not writing, he watches long Turkish movies, reads old Russian books, and attempts to play piano.