Organizers

Organizers of the Caucasian Challenge are veteran explorers and adventure travel professionals of The Travel Scientists.
Attila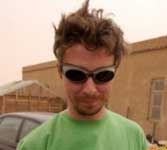 Attila is a veteran road warrior with several rallies under his belt. No matter which continent, he completed these rallies only with crazy vehicles like a Lada 1500, or a Hungarian commuter (or "bendy bus") as a part of the Bus Number 7 project. He's the lead organizer of the crazy East-European ride, the Caucasian Challenge. He's raced rickshaws through India and organized things from complicated international motor rallies to fussy corporate clients in his former life as an advertising professional. He's a pro with everything from tyrannical border guards to making pals with local nomads. Like Indiana Jones he will eat anything.
Aravind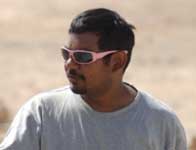 Aravind is the Brain behind and the lead organizer of the wildly popular Rickshaw Challenge that races rickshaws through exotic South India. He has also raced in Africa several times and assists with adventure rallies all over the globe. He runs an internet marketing company in Budapest, meanwhile he started the first "boutique" hostel in India. If it's got a motor, a bad road and a party at the end you can almost guarantee he'll have been there at least once.