Exploring the winding streets of Tbilisi's old town, the smell of sulphur gets stronger the closer you come to Abanotubani. Set against the dramatic backdrop of a craggy mountain to one side, the Mtkvari River on the other, the hive-like domes pump out hot steam from Tbilisi's famous baths.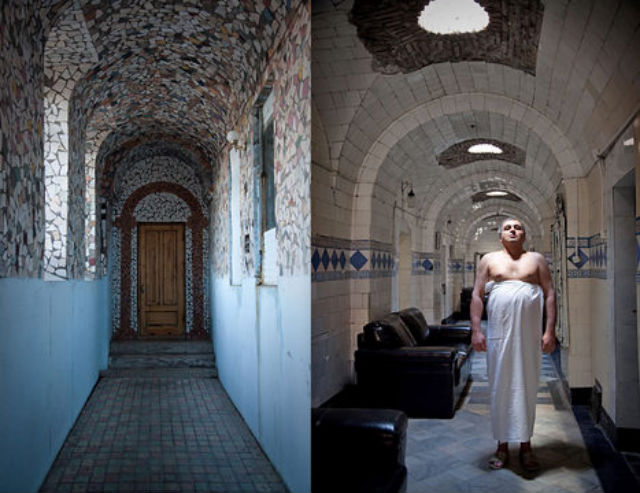 Local legend has it that Tbilisi came to life thanks to its thermal water, after King Vakhtang Gorgasali's falcon came across the water. The name Tbilisi is derived from the word "warm" so there could be some element of truth to the story.
However, some archaeological evidence has found Roman-style baths in the city that date as far back to the 1st century, but today's hub of thermal baths are based on the Persian tradition.
The baths became a draw of the city at the height of the Silk Road, when there were 63 baths back in the day. Also during the period of the Russian Empire, when the baths of Abanotubani saw famous bathers like Pushkin and Dumas, there were 10. Today there are now five baths.
You can enjoy both the public baths and go local or you can also have your own private bath for a bit extra. There is also the possibility for a scrub down and a massage at a few extra lari. However, five baths are still quite a few to choose from, so check out what makes each bath stand out, and find out more about Tbilisi's famous baths!
Orbeliani Baths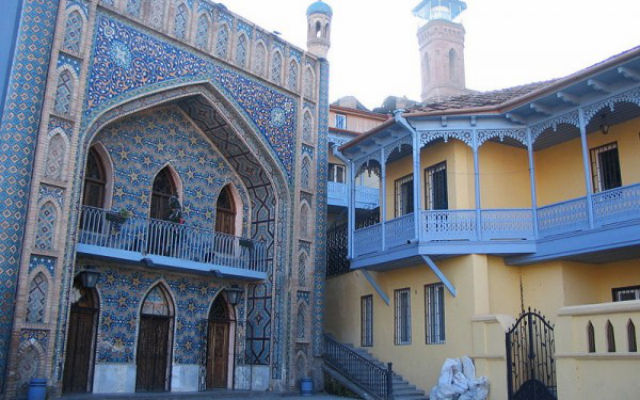 Decked out in turquoise and blue tiles and mosaics, the Orbeliani baths look like a Madrasah you'd find in Samarkand and are easily one of Tbilisi's most beautiful buildings and undisputed queen of the baths.
However, the interior of these baths are rather utilitarian and judging by other blogger experiences the scrub down and massage is quite abrasive, but like your Turkish hamam, this is a normal experience if you visit the Georgian baths.
There are 15 rooms in this bath, with prices ranging from 17 to 80 lari, depending on whether you want to go public or private.
Private rooms open 8 a.m. – 12 p.m., and public ones are open 6.30 a.m. to 10 p.m.
Royal Bath House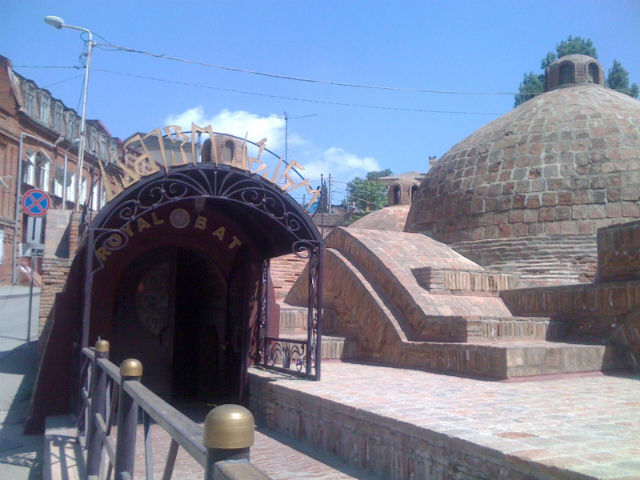 If you're not the most body confident person or really just don't fancy getting your kit off in front of strangers, then this might be the bath house for you since it only has private rooms.
These baths are located under the domes in the square, where you'll descend into a subterranean underworld with a blue hue. Most of the rooms are covered with royal blue tiles, giving these baths a calming feel.
The rooms come at a variety of prices depending on how big you want them and for how many people. You can get smaller rooms for two people to one for a party of 10. Some even come with a relaxation room decked out with couches and sofas. There are five rooms in total here.
Prices range from 40 to 80 Lari.
Open from 8 a.m. – midnight.
Sulphur Baths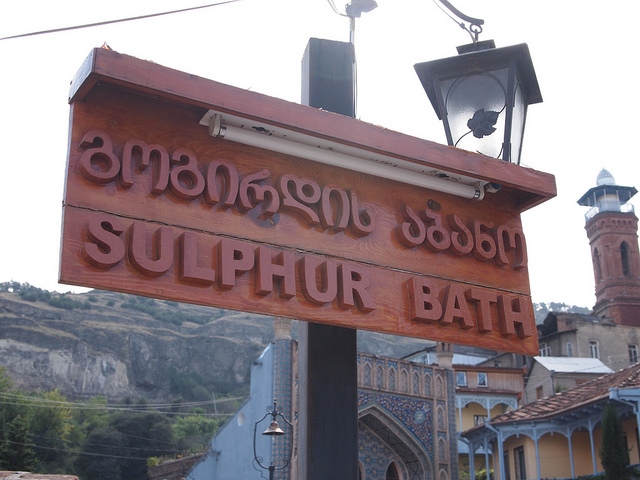 The baths are less prominent, being hidden behind Abano Street, sandwiched between two buildings just across the creek and only denoted by a billboard written mostly in Georgian. There is a steel door next to the poster leading down into the bathhouse. This is open all day and night; everyday, and you can only find private rooms here.
This is a small bathhouse with a total of four rooms, varying in price based on the size of the room.
Prices range from 30 to 50 Lari.
Open 24 hours a day
Bakhmaro Baths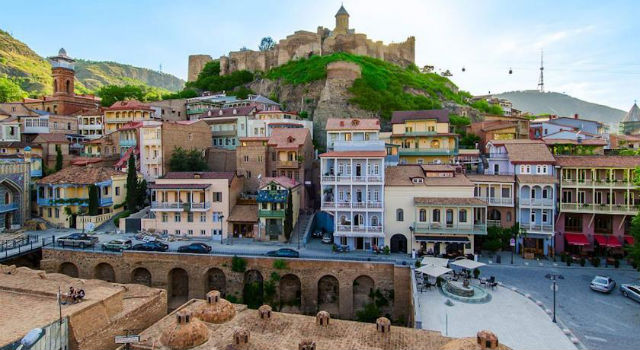 These are tucked in behind the Tiflis hotel slightly up the hill. This is perhaps one of the cleaner bathhouses, and also one that's slightly off the tourist trail. It looks like you have to go into a parking lot to go inside the baths. These are not the most beautiful baths, but the private rooms are nice and inexpensive.
There is a total of 7 standard rooms, plus a few VIP rooms.
Prices range from 20 – 100 Lari.
Opening hours: 7.30 a.m. – 1 a.m.
Bathhouse No. 5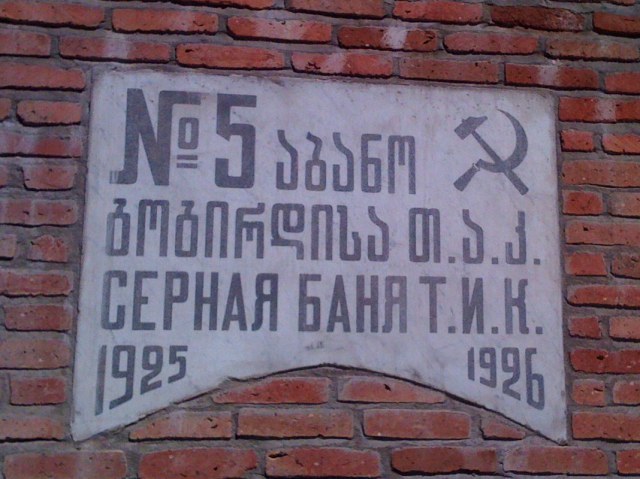 Being almost 300 years old, this is Tbilisi's oldest bathhouse. The ghosts of communists past linger on the placard in front of it with a symbol bearing the hammer and sickle on it. This is right in the middle of the Abanotubani neighbourhood and inside you'll find some beautiful tiles and mosaics. You can get private rooms all around the clock, and some of the fancier rooms at a higher price come with pools and a sauna. There is also a public bath separated into men's and women's sections.
Prices range from 15 to 80 Lari.
Opening hours: Private rooms are open 24 hours, public: 7 a.m. – 9 p.m.
Three Scenes in Tbilisi
Liked this article? Getting itchy feet to travel and find adventures? Then join us on the next
Caucasian Challenge
. Then get a team together and lets see you at the starting line! If you want to join us in spirit, like us on Facebook or follow us on Twitter to keep up with our latest antics.
Follow Us
Jennifer is a travel and culture journalist based in Budapest, Hungary. She has written for publications like CNN Travel, The Huffington Post, The Matador Network, among others. After living and working in Tbilisi, Georgia for the national newspaper Georgia Today, she's passionate about the Caucasus.